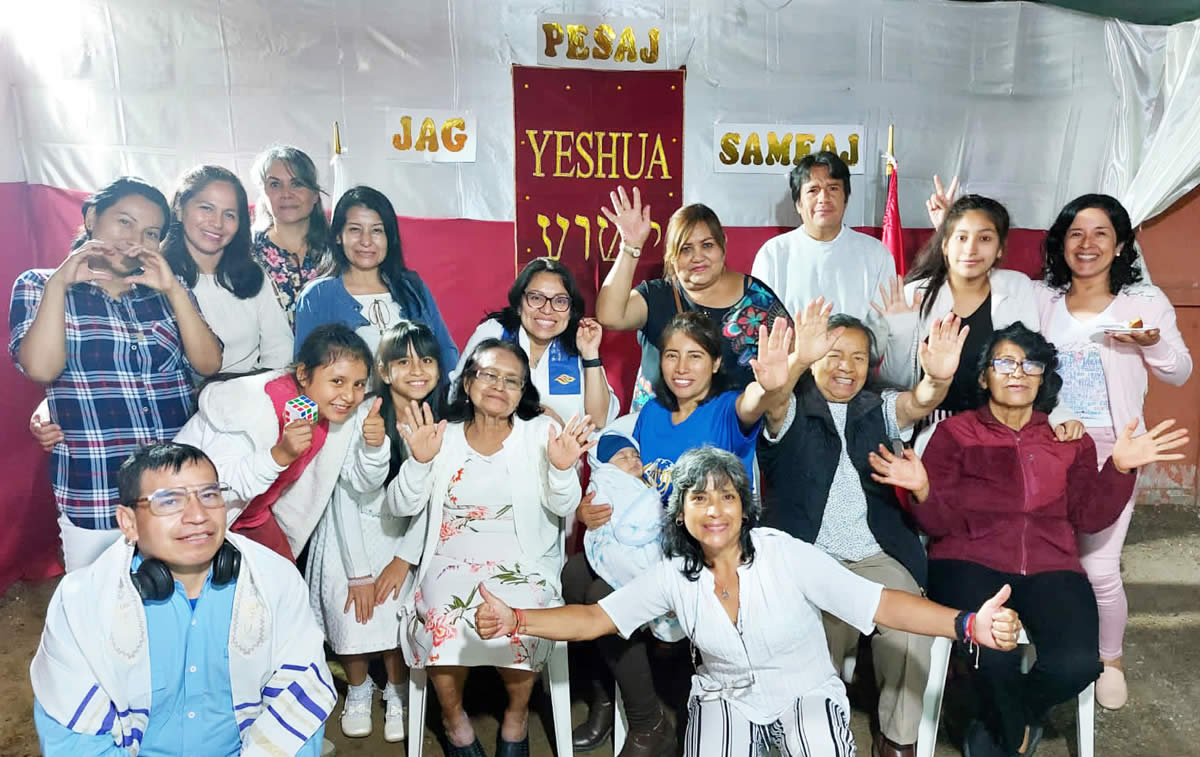 UNIFY UPDATES – May 2022 / Nissan-Sivan, 5782
God blessed them and God said to them, "Be fruitful and multiply, fill the land, and conquer it. Genesis 1:28a TLV
There is so much to report this month, as much is happening in our day that is strategic as well as prophetic. The reports from the nations received are so encouraging, as we see advances made in many areas around the world.
Reading from Genesis 1:27 and 28 we see that man was created in Elohim's image and the first instruction given to man was "be fruitful and multiply" and to take authority to rule over the creation. This is becoming alive in UNIFY in our day as we see our members being fruitful and exercising authority with the Gospel made in Zion, achieving miraculous things! UNIFY is restoring the vital connection between mankind and The Land, as well as rising to be caretakers of the land where we've been placed.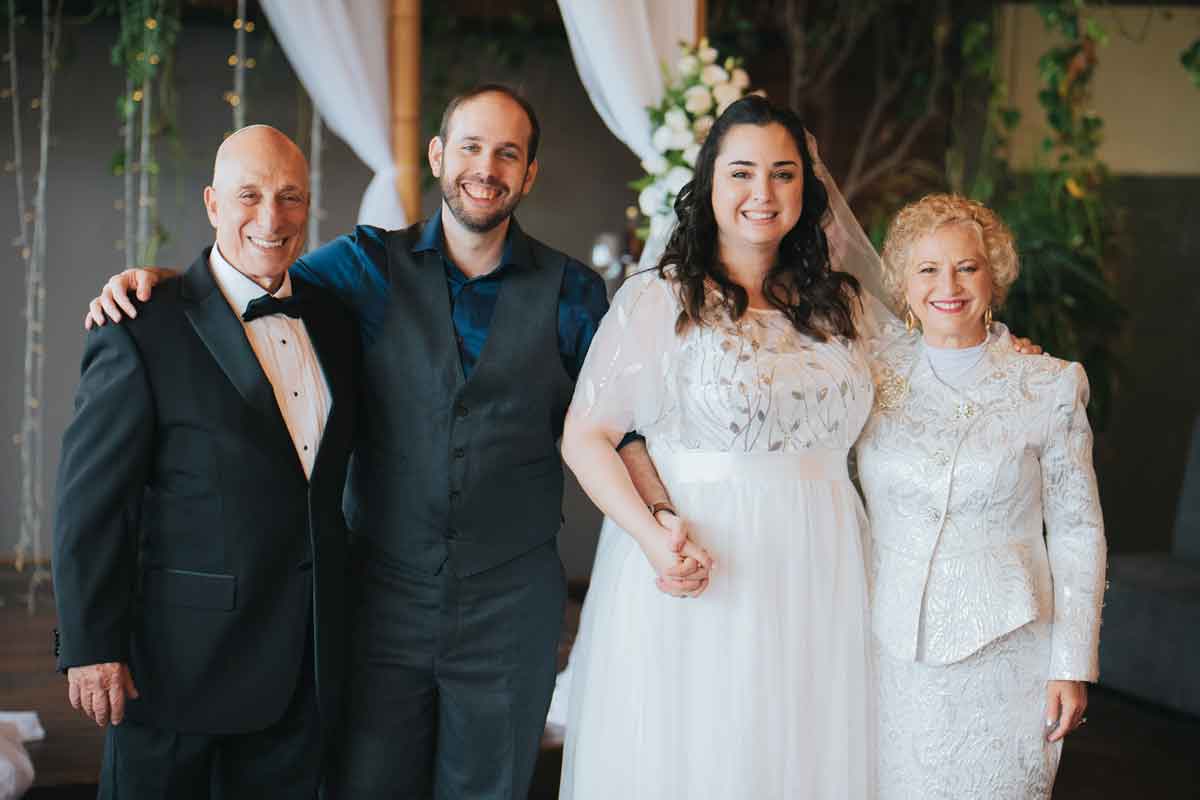 A recap was given from the recent trip to Israel by Archbishop and Rabbi: included was the delightful uniting of Dor and Adi in covenant marriage, the memorial for Justin/Yuval, and the taping of the powerful new series about Biblical Women. Much was accomplished also regarding the Ukraine rescue efforts and continued support of those requiring food and assistance with Aliyah. Your generous contributions made this all possible.
We want to also announce our upcoming Apostolic mission to Slovakia and Western Ukraine which will happen after the Shavuot tour. This will be an intense time involving 3 or 4 cities, in which to impart the MAP Revolution and call for repentance of blood guilt in this land. We are opening new territory which will require approx. $7,000 to accomplish. Anyone wishing to support this mission is encouraged to do so.
The prophetic word from Archbishop Langston spoken to Archbishop Dominiquae is now about to come upon all our leaders: there will be an elevated "owning anointing" – necessary to possess the land. We are seeing the fulfillment of this word in stages, since the heartbreaking loss of our Embassy: First we planted an orchard of olive trees (prior to the Shmita year), to keep a foothold on the land. It is said, "Plant a tree, claim the land". Now we are purchasing the Watchman Apartment with a view of the Temple Mount, where we sow restitution seeds for an open portal.
In the future, we believe in establishing a UNIFY Embassy again, believing for it to be inside the walls of the Old City!
We now have 161 active members from 26 countries. This month we welcome 8 new members, some from Hong Kong, Mexico, PNG, Sweden, USA and Italy (a first from this country!) Enjoy the reports from our delegates!
Reports from the Nations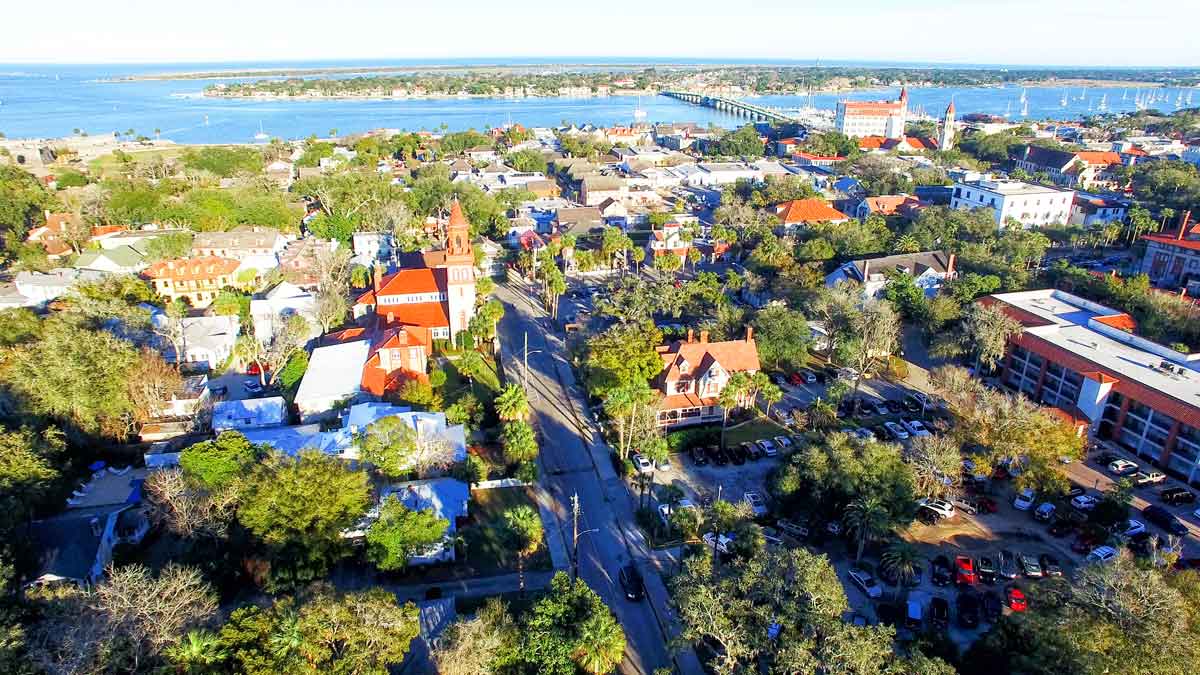 St. Augustine Leaders Meeting
Archbishop Dominiquae Bierman, USA
Archbishop and Rabbi had a very special meeting in St. Augustine with a few Messianic leaders of the area. They were very touched by the message she shared; it was conveyed to them that there is no time to play religious games anymore with Replacement Theology. Then she pointed out the keys for the revival of St. Augustine, the first city of the nation – to do true repentance from all replacement theology, Freemasonry included! One of the participants, a leader from Jacksonville, told how Yah had revealed to her how Archbishop is like Esther, and they all honored Archbishop and the words she shared. We are prayerfully looking forward to connecting more with these leaders in the area.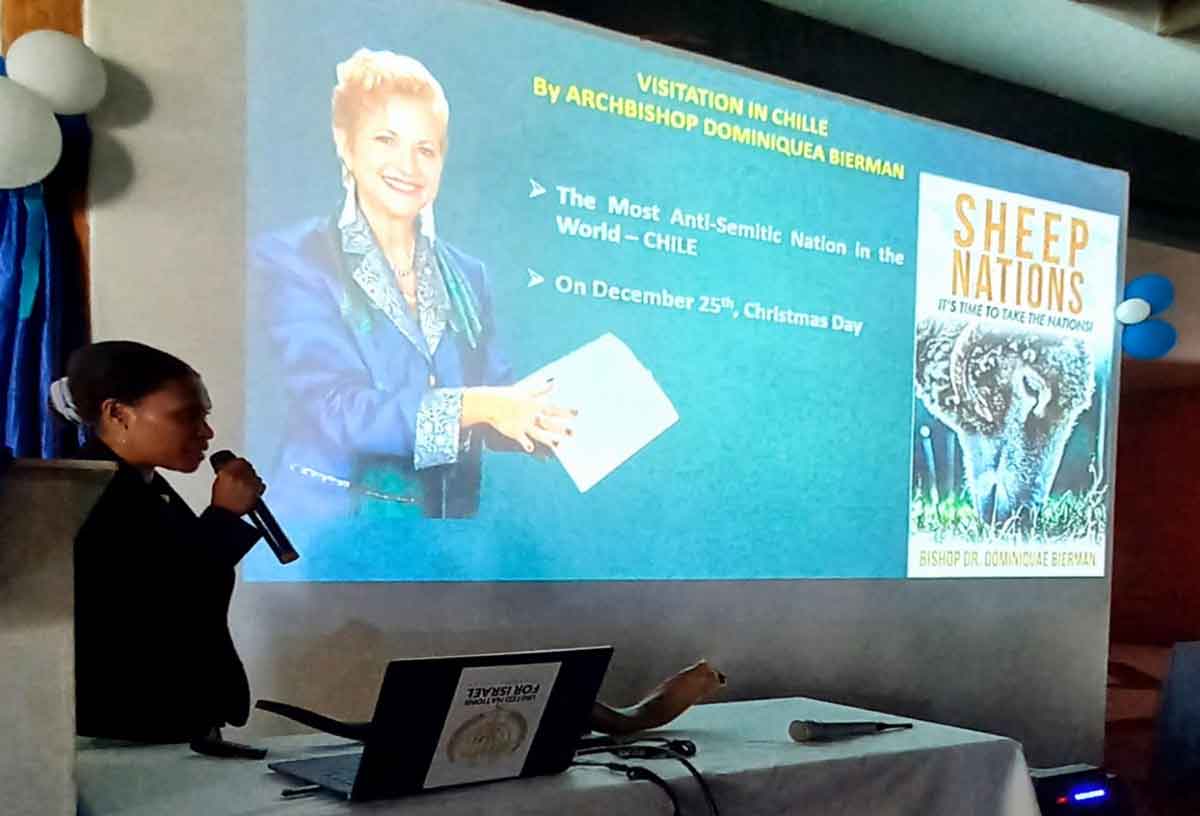 Seeds Germinating in Government and Church
Pastor Mollie George, Papua New Guinea – Pacific Region
Elections are forthcoming in PNG and there is much prayer that there will be no outside influences to affect them. The focus has been on seeing Biblical politics spread and to make disciples of MAP Revolution, who will then become candidates – and we are now seeing this come to pass.
Grafted In book has been given to the Prime Minister and former Prime Ministers by a Lutheran Bishop who was deeply moved after reading it. He also has been presenting excerpts from the book at presentations, demanding to know why Lutherans stood idly by during the Holocaust.
Young people are being trained up to teach principles among their peers from the Sheep Nations book. Also, the Ima Bat Ami group is teaching from Yeshua is the Name.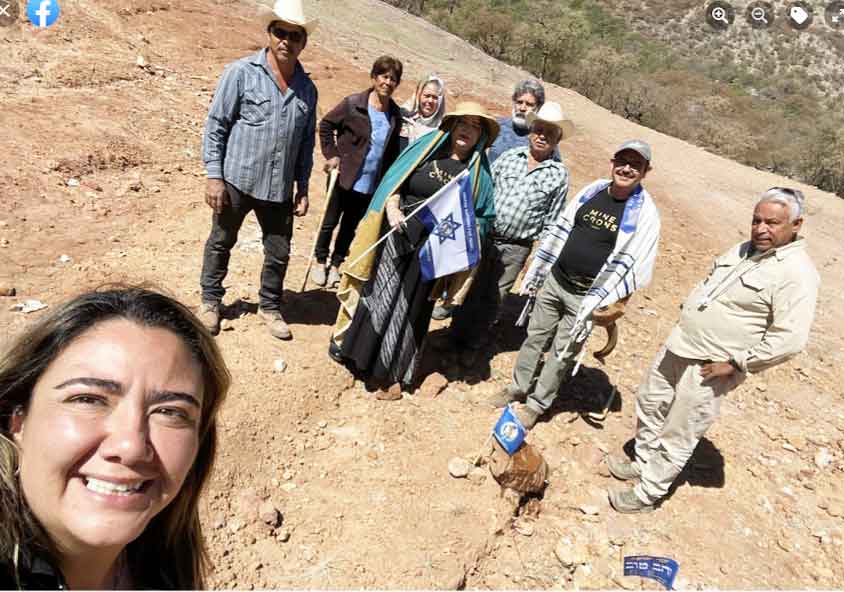 Anointing for Opening New Territory
Pastor Cesar Silva, Mexico – Latin American Region
During the Pesach season a mission was undertaken to the gold mine of Sonora (in the desert region) which was highly anointed and successful. Divine connections were made for this through a Facebook contact who came to the Sukkot Holy Convocation where Archbishop and Rabbi visited Rio Bravo (renamed Goshen) last year and accepted Yeshua. She opened doors as a businesswoman to the mines as Archbishop had told her to rename the mines with holy names. This particular mine was called Dionisius (Greek god of wine and debauchery) and Pastor Cesar renamed it Zahav Tov ("Good Gold" from Genesis 2:12). Though Pastor Cesar got lost on the way, he even found favor with heavily armed members of a cartel who helped him locate the ranch. This was in fulfillment of a prophetic word given to him by Archbishop Dominiquae prior to the mission that stated, "You need wisdom to deal with crocodiles" (note that these men were all dressed in green!)
This mission included Pastor Cesar speaking on the importance of fatherhood which comes from Israel, causing the mine owner to weep. His wife was so touched she gave an offering of restitution for Israel. Many big doors have opened for the Team there. As a Shabbat dinner was held there (for all mine workers, partners, and geologists), one man repented and began to believe when he heard truth based upon the period of history involving Genesis 1:1 and 1:2 (as stated in our GRM studies) , where evidence appears in geological formations (this man was a geologist). Now they have Shabbat at the mine every week!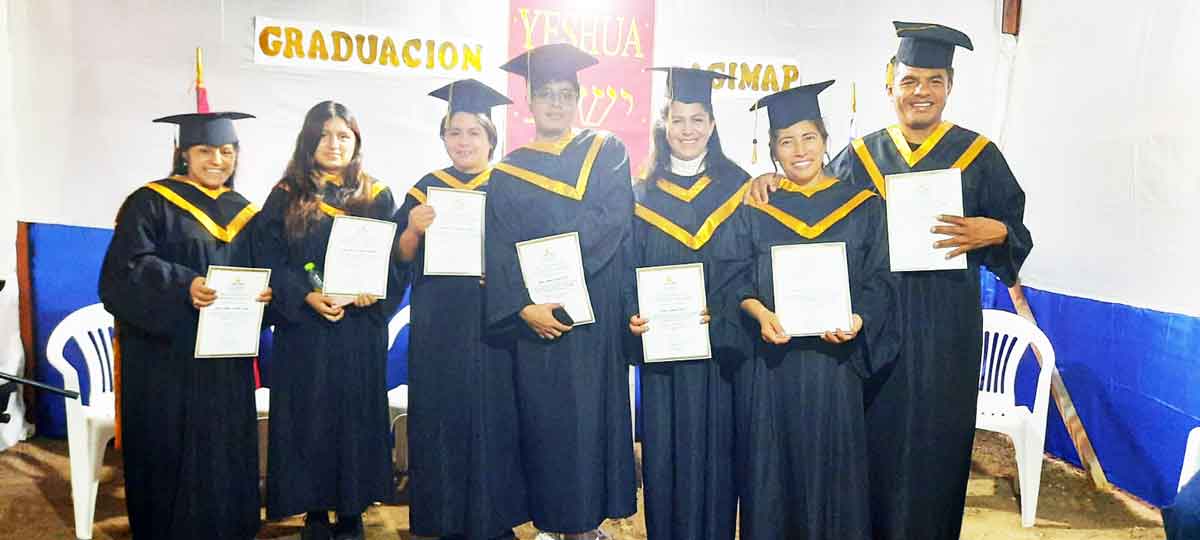 Seventh AGIMAP (GRM Bible School) Graduated in Lima, Peru!
Pastor Sonia Gotelli, Peru
Pastora Sonia and her group are celebrating the Mikveh of AGIMAP (Spanish GRM Bible School) graduates. They publicly rejected their old lifestyle and entered the covenant with Yeshua. The baptism took place in a Lima suburb with attendance of their families. In the afternoon of that same day, they had the graduation ceremony of the seventh AGIMAP class and everyone was sharing their personal testimony. The fruitfulness we are seeing in Peru is a result of steadfast faithfulness and perseverance!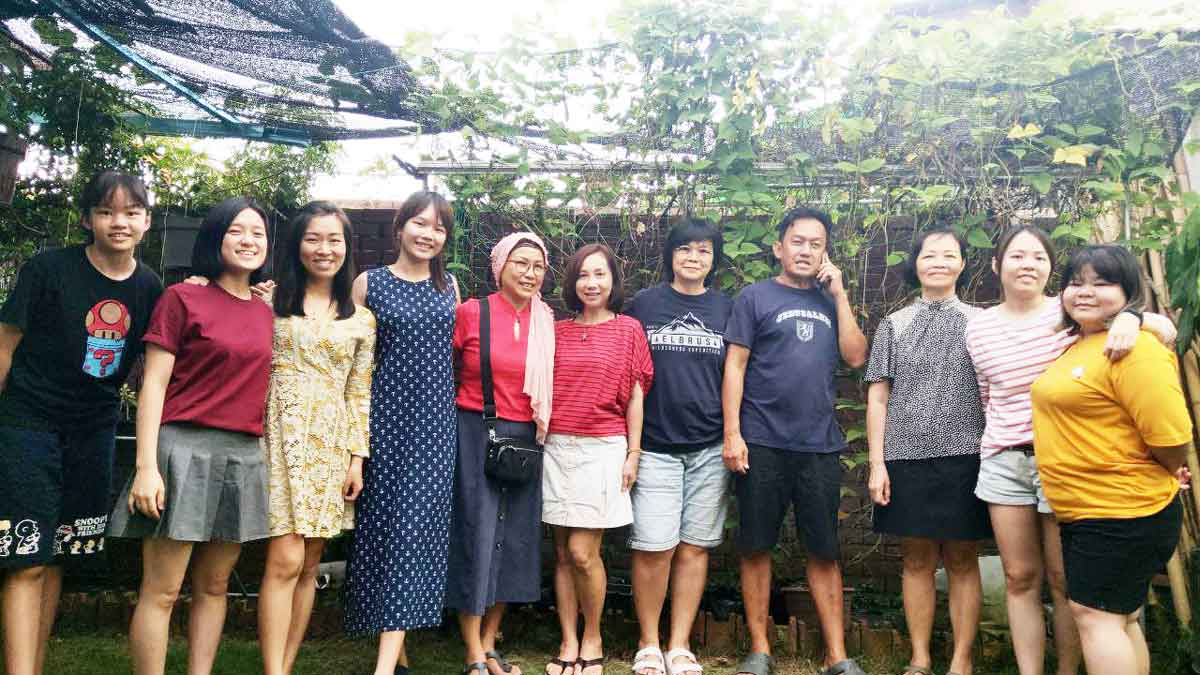 Asian Coalition Celebrate Pesach
Pastor David Lee, Malaysia – Far East Region
There was a beautiful Pesach celebration among our Asian coalition, centered at Pastor David's home and with other Far East Team members on Zoom. It is exciting that he is now seeing words spoken prophetically over him during his ordination in Israel coming to pass. There is much emphasis upon teaching of truths during feasts being passed on to the children in the Far East.
Perach from Taiwan shared that a sister from Ima Bat Ami group participated in Pesach, and then decided to go to her church for Easter. During communion she wept – and was given insight that it was the Ruach weeping in disapproval for her compromise. So, she has now left the pagan feasts to study the truth. As we know, the Moadim (Feasts/Biblical appointed times) are part of His Non-Negotiables, which He is calling us to restore.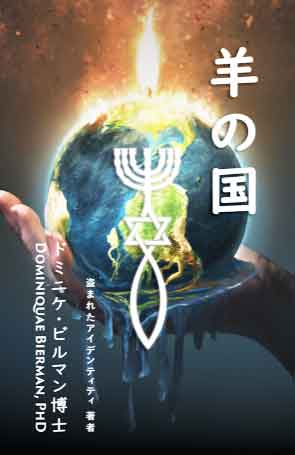 Japanese Sheep Nations book is ready!
Yutong Tagawa, Japan
The Sheep Nations book is now ready in Japanese! They are now working on the fourth book, The Key of Abraham, which will be followed by a Japanese translation of Grafted In. Japanese books are coming in great speed, and are already being shared forward according to the leading of the Holy Spirit.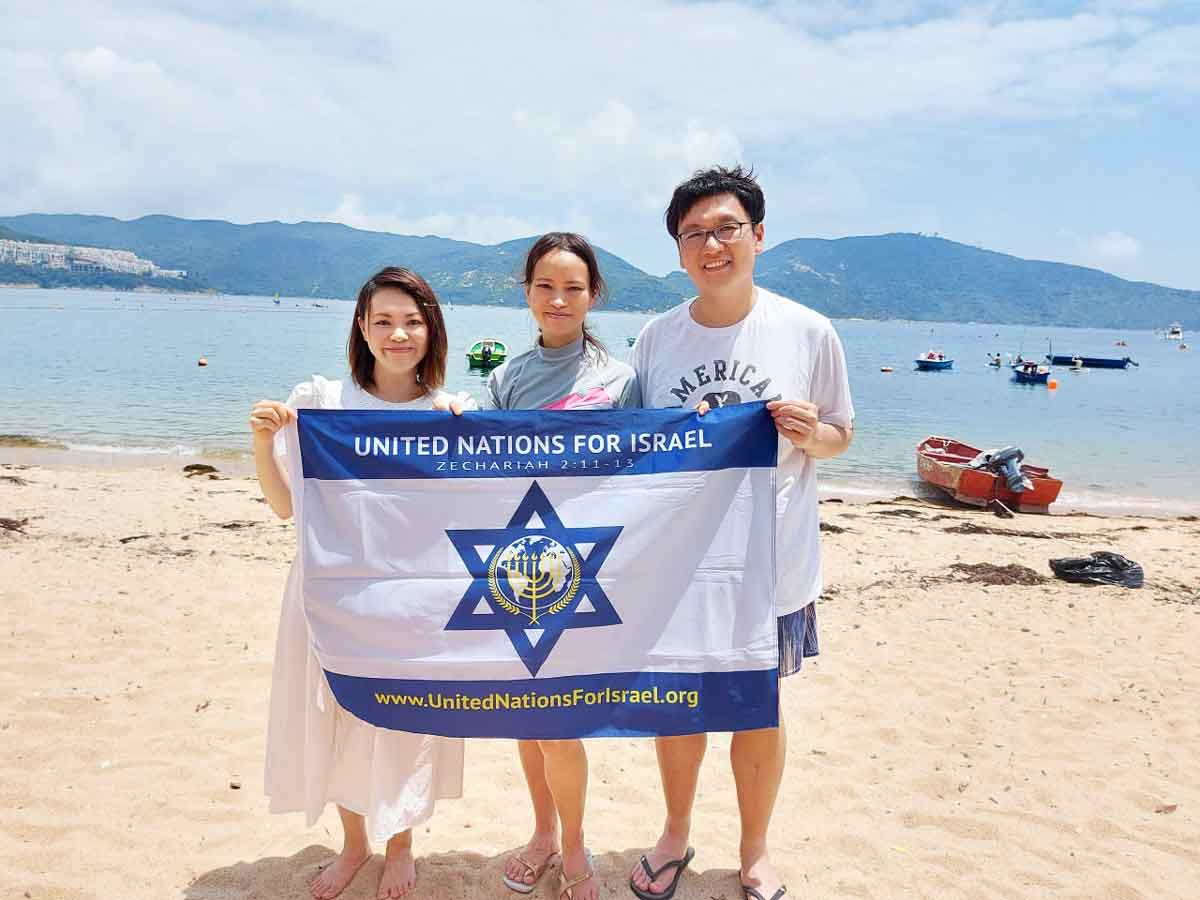 Secret Passover Seder & Glorious Mikveh
D'vorah Cheung, China
D'vorah celebrated Passover Seder with her group in a special private restaurant that served them in spite of Hong Kong's harsh Covid restrictions. The Seder was filled with joy; they were singing and dancing, and one of the participants accepted Yeshua and got filled with His glory! They also had a Mikveh baptism in a private beach where the Holy Spirit led them after they got blocked from public beaches due to covid laws. The team learned not to give up but rather to Break Through!
D'vorah has also learned much while ministering deliverance and healing to people, and many have started to study GRM. Amid difficult covid policies at her workplace, she has stood firm without compromising and Yah has backed her up every time. HalleluYah!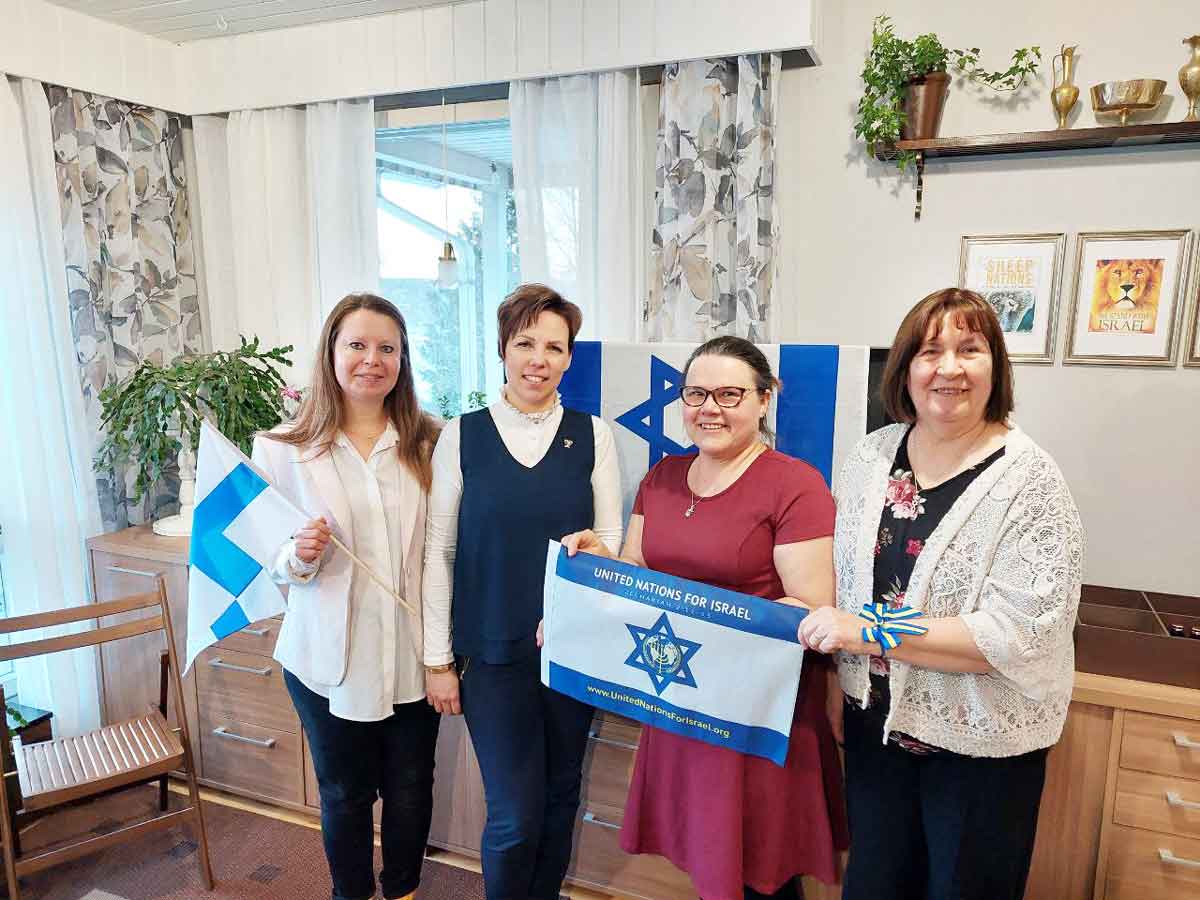 National Bloodguilt Crying Out in Finland
Apostle Sana Enroos, Sweden, and Pastor Terhi Laine, Finland – Scandinavian Region
There was a sense of urgency for Apostle Sana to visit her native nation of Finland prior to Pesach, to mark it with Yeshua's blood. She felt that there was a national bloodguilt crying out since 1914, due to an incident of Jews being murdered after being sent out of their city by train and never returning. During this mission there was a divine appointment in a Jewish cemetery where they did a prophetic Act of Repentance and built a memorial in the shape of a Star of David as an Act of Restitution.
Pastor Terhi reported that there were healings and deliverances that occurred while Apostle Sana was in Finland, teaching and ministering, and the Finnish team got refreshed and revived.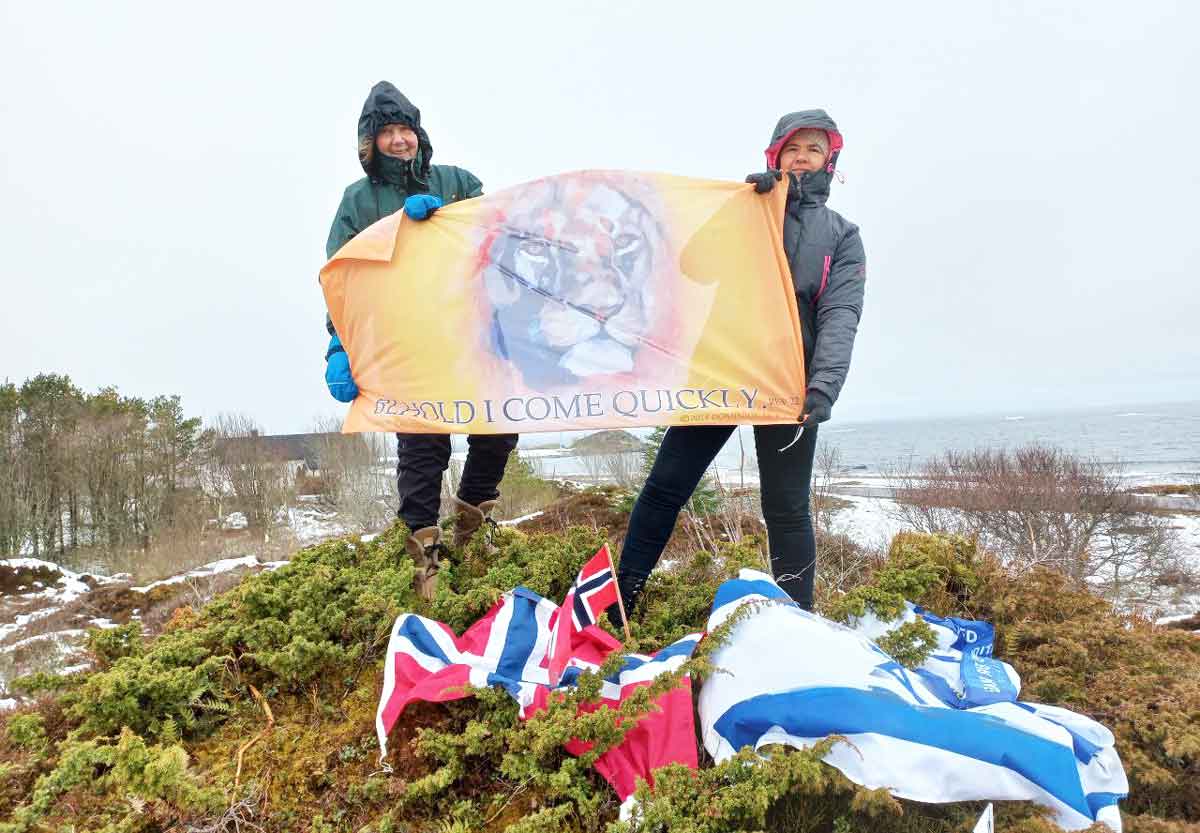 Acts of Repentance and Loving the Jews
Pastor Hanne Hansen, Noway
Pastor Hanne and her team did an Act of Repentance prayer mission to Hustadvika, a special location where many shipwrecks have happened, and then in Norway's national shrine, Nidaros Cathedral in Trondheim. They were repenting from replacement theology, antisemitism in the church and of several other issues. They walked around the cathedral seven times and felt how the spiritual atmosphere became lighter by each round, ending it by blowing shofar.
Pastor Hanne has also been visiting an old Shoa survivor, Chana, who belongs to the local synagogue. She has been able to share with her about the gospel made in Zion. After spending six hours with her, Chana pointed to the Bible and said, "but there are many things left!" Pastor Hanne promised to return soon again.
She also attended Seder service and meal in the synagogue, where she and her team were able to bless the Jews and bond with them.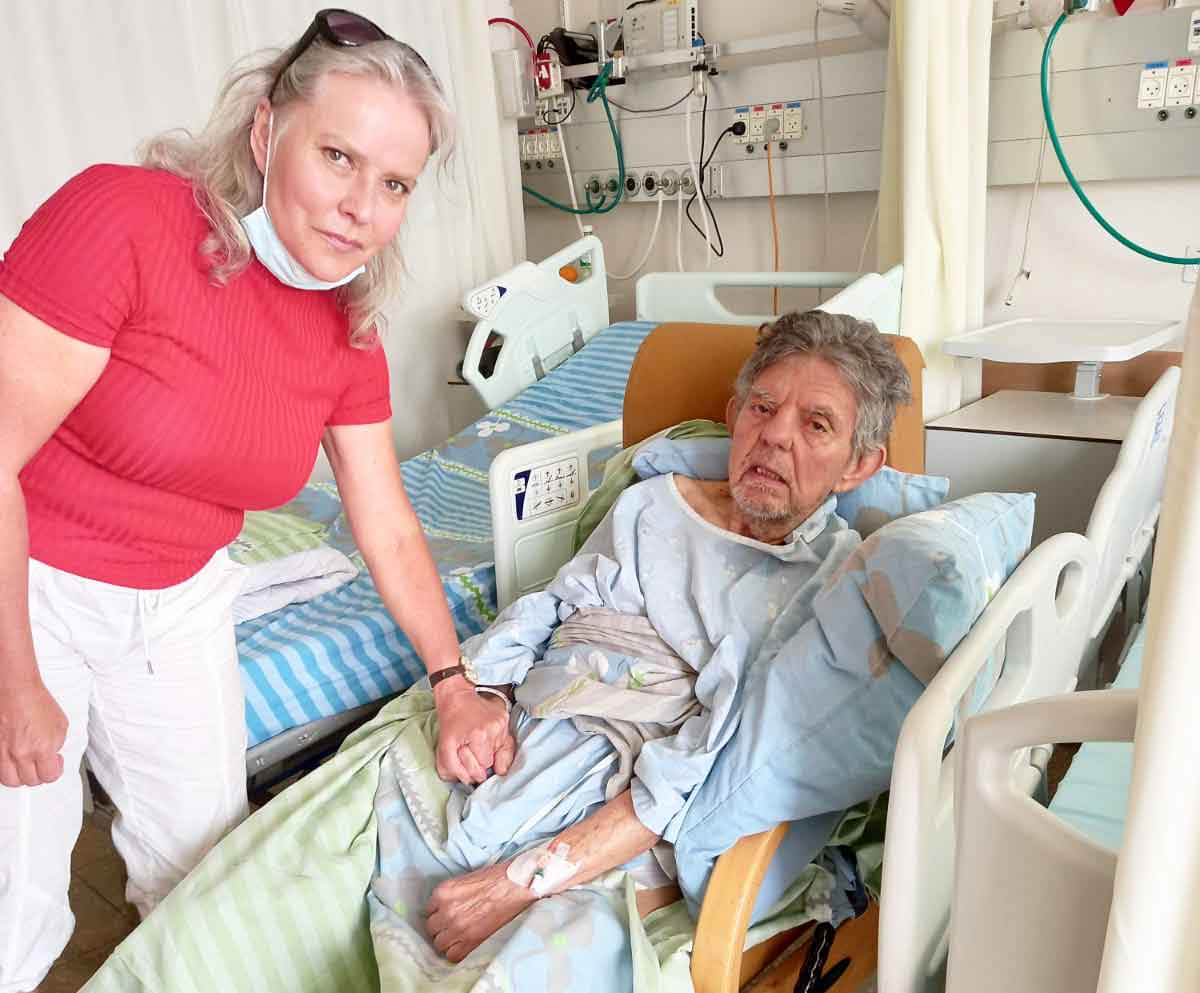 Taking care of Shoa Survivors in Beer Sheba
Eicha Lohmus, Estonia
During her trip to Israel in April, Eicha assisted Archbishop Dominiquae with TV program tapings that took place in different key locations in Israel.
While she stayed in Beer Sheba for two weeks, she helped Pastor Anita take care of a sick brother in Yeshua in the Beer Sheba hospital. David was in the hospital in a very serious condition, and they took care of him in practical ways and prayed for him. Soon after he was released home with the help of Pastor Anita who is a nurse. His wife said that Pastor Anita and Eicha were like angels sent from Yah.
Eicha also visited and helped elderly and sick people in a building where Russian-speaking Jews were located. Ruach Hakodesh led her to speak to some of them when they were sitting on the bench in front of the building. Most of them are living alone, have no family and friends, and some can barely get out of their apartments without help. They were so happy that someone talked to them and soon invited Eicha to their homes to have a cup of tea and cake together. She became good friends with two Russian women, Bela and Ljuda, and when she prayed just to bless the food, they said that it was the first time someone prayed in their home and for them.
She also joined with the Estonian team by Zoom for Passover Celebration, and when she returned to Estonia, they did an Act of Repentance on the Shoa Memorial Day, cleaning the former Nazi concentration camp in Klooga and lighting up candles for the memory of 6 million Jews murdered during the Shoa.
---
We were exhorted by Archbishop to remember that when we need to decide whether to please man or please Yah, always choose Yah. Honor the King first, then He will show us how to reach out from that place as a faithful son or daughter. It is so important to be in agreement with the Ruach and the Torah.
It is important to Listen and Learn, then Follow and Obey; this is how breakthrough comes! Our UNIFY Team is becoming richer in the natural and in the spiritual because Yah is pleased with our walk of faith and humility. His seal of approval is upon us. Our boast is not in ourselves but on Him, who has enabled us to walk in a manner pleasing unto Him.
Let us remember to be diligent to pray for each other, especially for our leaders who are on the front lines constantly. Remember that UNIFY is young as an organization and we must guard it through prayer and giving. This Mission is the Heart of Yah expressed on the earth.
If we would locate ourselves within the members of His Body, then I believe that the UNIFY global family is the heart of the Bride of Messiah – the heart has a constant outflow and inflow of blood. If the heart stops beating, the body dies. We recommend that our Team take communion daily, as His Blood is the antidote to all that comes against us and His Body is the Word, our source of strength.
May we continue being fruitful and multiplying, seeing Sheep Nations form – one person at a time!
For Archbishop Dominiquae Bierman,
Reverend Debra Barnes & UNIFY Team
Become a member of the United Nations for Israel & join our monthly member's online conference.
You will receive fresh updates, instructions, and prophetic teaching live monthly, and be part of the Esther Church standing for Israel!
United Nations for Israel Online Conference – June
Tuesday, June 7th, 2022 @ 1:00 PM – 3:00 PM (EDT)
As a member, you will receive a personal invitation with a link to the conference by email.
Support the Mission:
Donate online: https://unitednationsforisrael.org/unify-donations/
Please email us at info@unitednationsforsrael.org for bank details
Call us in the USA at 1-972-301-7087
Checks in USD, Canadian Dollars or British Pounds to be sent to Kad-Esh MAP Ministries, 52 Tuscan Way Ste 202-412, St Augustine, Florida 32092, USA
Western Unions & Money Grams addressed to Hadassah Paloma Danielsbacka 52 Tuscan Way Ste 202-412, St Augustine, FL 32092, USA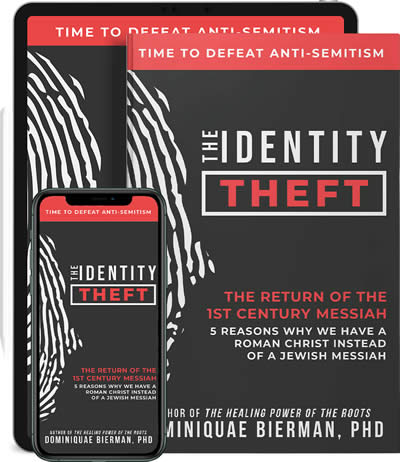 Overcome Anti-Semitism – Discover the Jewish Messiah
Discover your identity in Messiah by restoring His identity as a Jew, not a Roman. Archbishop Dominiquae Bierman's latest book The Identity Theft & the GRI online course defeats anti-Semitism by showing you the Jewish identity of Messiah. You will learn to walk in first century power and anointing!
*Course access comes with the book only when the book is ordered through the website www.against-antisemitism.com
Join The 70 Righteous of The Nations!
Become a special partner of the United Nations for Israel by committing to a monthly love gift of $100 or more. Press the button below or email us for more donation options: info@unitednationsforisrael.org
Join our Telegram Channel for the latest updates from Archbishop Dominiquae Bierman:
https://t.me/dominiquaebierman
Subscribe to our YouTube Channel!
Watch the latest broadcasts from Archbishop Dominiquae Bierman and subscribe to United Nations for Israel YouTube Channel!
https://www.youtube.com/channel/UCpYddpF0nftGv6uLwEu5ARg