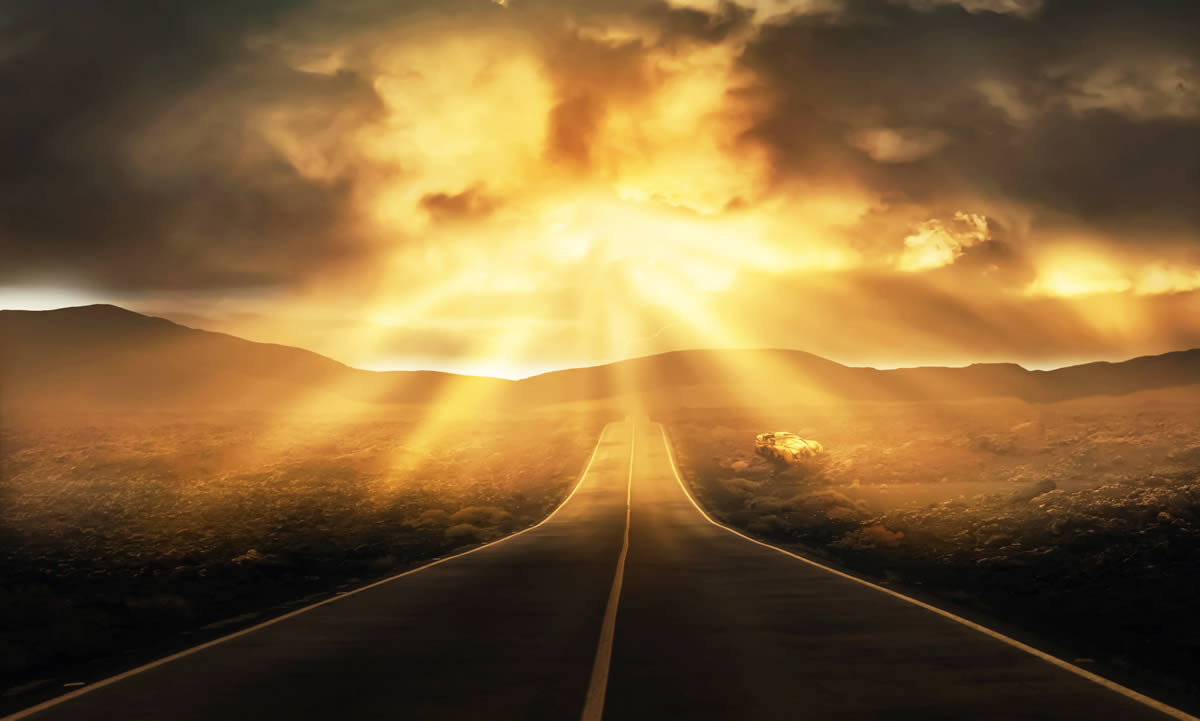 UNIFY UPDATES – June 2021 / Sivan 5781
The pillar of cloud by day and the pillar of fire by night never departed from the people. Exodus 13:22
Shalom, beloved UNIFY members and delegates,
At the beginning of my ministry, I decided never to move unless the cloud moves. This cloud moved when we came to St. Augustine, Florida, to stand in the gap for the USA. The story of our lives is that if the cloud moves, we move. The cloud of glory moves us.
I've raised a ministry that moves in that capacity and glory – not to create another denomination, but to proceed with the cloud, in His kavod (Hebrew for "glory"). I will continue to function this way at every step, and the ministry will continue to operate the same way. The entire mission of the United Nations for Israel will function under Zechariah 4:6.
Then he responded to me by saying, 'This is the word of YHVH to Zerubbabel saying: "Not by might, nor by power, but by My Ruach!" says YHVH-Tzva'ot. Zechariah 4:6
The cloud of glory is moving in your nations. My attachment is to the cloud of glory. The cloud of glory is where the blessing and the anointing are going to be. If the people of Israel stayed when the glory cloud moved, they would have removed the protection and covering from themselves. They most likely would have died sooner than later in the desert.
Since the 90s, the cloud has been moving to restore the original foundations of the faith, the gospel that came out of Israel 2000 years ago. Some of the believers flowed with the cloud, and some didn't. It moved to bring revelation and the importance of standing with Israel and the Jewish Roots of the faith. Some stood staunchly rooted in replacement theology, saying, "the church replaces Israel, period."
We do not play the political game. We are what America would call a religious, educational organization. As a ministry, though, we are the temple. Let's say there was no 501(c3) non-profit; we would still exist. United Nations for Israel is eternal, is the vision of the Almighty, downloaded on me and imparted to you. We started much before 2012, as Kad-Esh MAP Ministries began already in 1990.
Let God arise! Let His enemies be scattered! Let those who hate Him flee before Him. Psalm 68:1
In Israel, there has been an attempt to break away from Netanyahu, who has been a puppet of the New World Order. That is why under his watch, he sold major Israeli conglomerates to China. He has also turned Israel into the guineapig of Pfizer.
Israel is forming new political parties to break away from Netanyahu, and the fight has been so huge that they are under attack through violence. The wicked one of the NWO doesn't give up easily, but we pray! As Israel has it rough, we stick with her like Ruth to Naomi, not out of romantic love but out of covenant love.
'In that day many nations will join themselves to YHVH and they will be My people and I will dwell among you.' Then you will know that YHVH-Tzva'ot has sent me to you. YHVH will inherit Judah as His portion in the holy land and will once again choose Jerusalem. Be silent before YHVH, all flesh, for He has aroused Himself from His holy dwelling. Zechariah 2:15-17
Pro-Israel Rally in Orlando, FL
National Reports from UNIFY Delegates
USA – Archbishop Dominiquae Bierman
We were attending a Pro-Israel Rally in Orlando, Florida (Watch the video above). Our team with UNIFY T-shirts and shofars was drawing the attention of many, and we got to give people The Identity Theft book flyers and connected with other friends of Israel. Especially a conservative Rabbi that held a speech in the event was eager to hear about UNIFY and brought up our UNIFY team in his speech. At the end of this anointed rally, a few anti-Semitists came forth with the sign that said: "Jews killed Christ." The message of The Identity Theft is more urgent than ever to refute these age-old lies!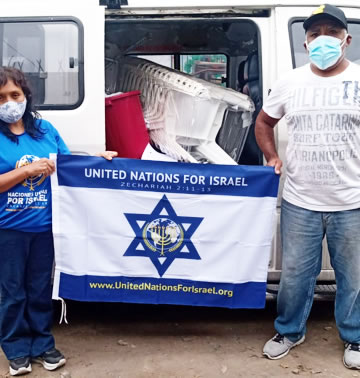 Peru – Pastor Sonia Gotelli
The team members were involved in benevolence work; they donated Passover dishes, chairs and ministry outfittings to a soup kitchen that feeds the poor.
Mexico – Pastor Cesar Silva
After Pastor Cesar gave a restitution offering to Israel through UNIFY, a prolonged drought finally ended in rain. Prayers continue for Israel, especially considering recent attacks from Hamas terrorists. A woman's son who had gotten deathly ill from COVID-19 was miraculously restored after she gave a restitution offering of $140! A former pastor who hosted Archbishop Dominiquae in 2018 called pastor Cesar and invited him to visit them in a project they are developing. The project is to locate and bring together all the benei anusim (hidden Sephardic Jews) from across Latin America!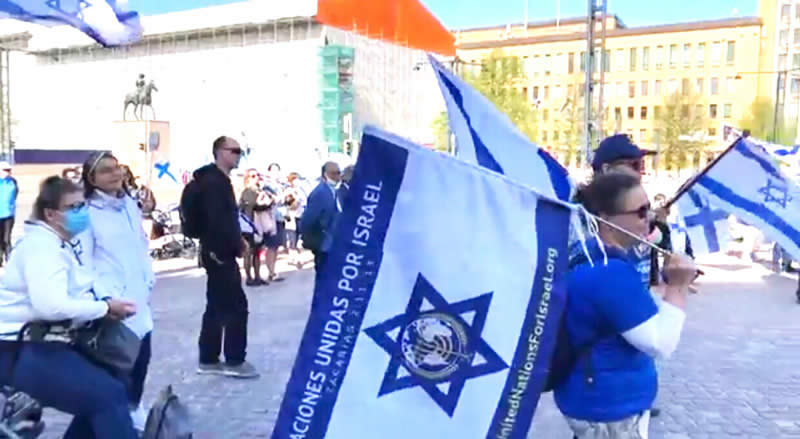 Finland – Pastor Terhi Laine
On the remembrance day for the Finnish war, May 16th, Pastor Terhi and Sinikka Backlund took part in the pro-Israel solidarity event near the parliament house in Helsinki. One of the MP's just happened to come by and asked for a possibility to speak. He was defending Israel strongly, and our team was so glad to hear that as they had just recently prayed for His spiritual awakening. They were handing out UNIFY Embassy flyers and The Identity Theft book flyers, and Pastor Terhi gifted a UNIFY flag to a man that was very drawn to it. After the event, the team proceeded to pray at the parliament house, which they have been doing regularly, traveling several hundred kilometers to the capital for these very important missions. Glory to Yah!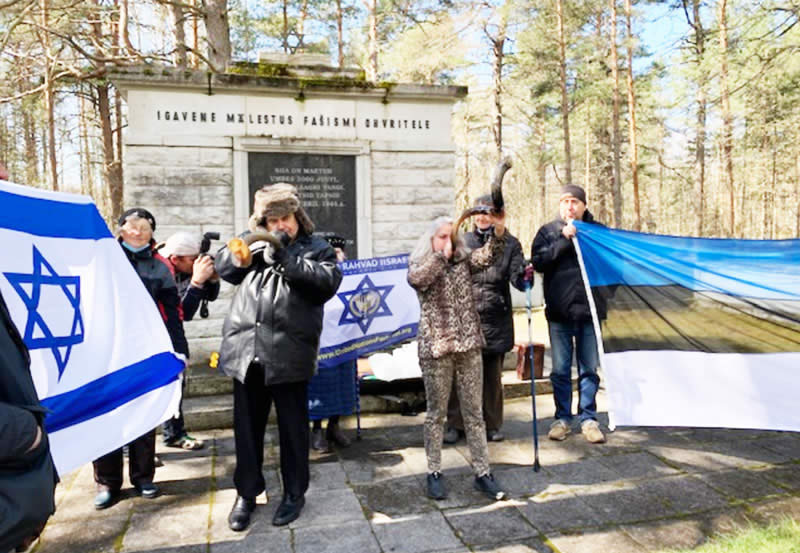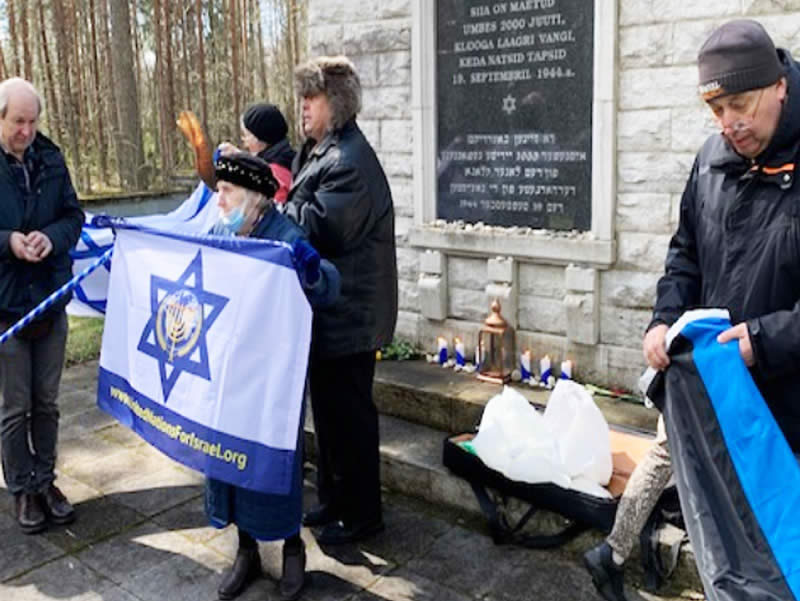 Estonia – Eicha Lohmus
Eicha participated in the spring cleaning of the largest Estonian concentration camp, Klooga Memorial Park. Nazis and their Estonian collaborators there murdered two thousand Jews. The Estonian branch of the International Christian Embassy in Jerusalem arranged the cleaning. After many hours of cleaning, they held a memorial service, blew the shofars, and lifted flags for Israel, Estonia, and UNIFY. When Eicha was trying to blow her shofar and lift her UNIFY flag at the same time, with apparent difficulties, a small elder lady ran forth, grabbed the flag, and told her: "Now you can blow the shofar!" And she held the UNIFY flag right in the middle, between the flags is Israel and Estonia, through the whole event, telling Eicha later that that was the best moment of her day!
Norway – Pastor Hanne Hansen
Pastor Hanne had two UNIFY sisters visit her this month and mikveh'd one of them in her bathtub. The shofar blow went over her as she came up out of the water after seven immersions, filling the place with the presence of Yah and giving them all His abundant joy! An organization that seeks to make the Bible and the Holy Spirit the highest authority in the Church again also invited pastor Hanne to open up the meeting with a word of Yah and a prayer request. Pastor Hanne read Genesis 12:3, 2 Chron. 7:14, and mentioned several anti-Semitic examples of bishops against Israel. They were all very receptive!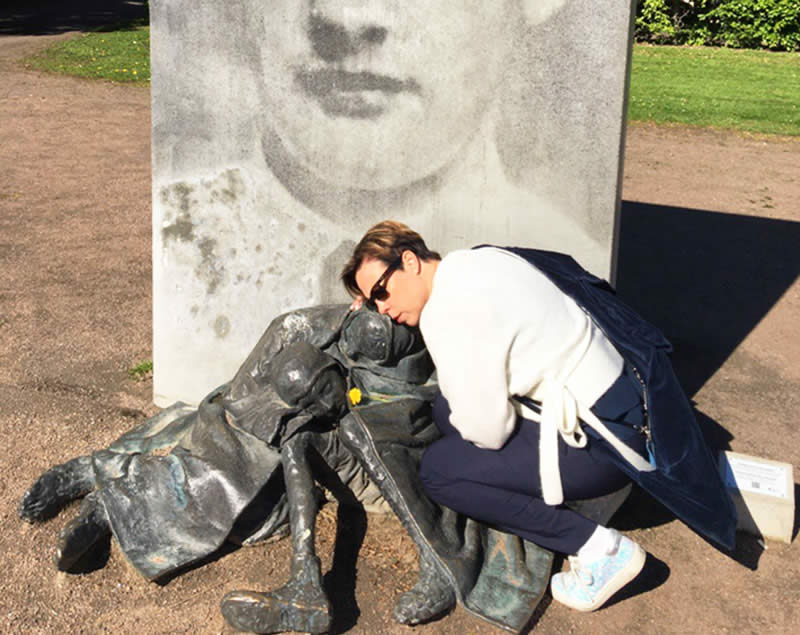 Sweden – Apostle Sana Enroos
Apostle Sana Enroos and her team were sent to drive through different major highways in Sweden. They blew the shofar while driving, also as an act of repentance for Swedish anti-Semitism. Many of them drove one or two hours singing, shouting, and proclaiming Sweden to be a sheep nation, blessing Israel and living according to the Torah of Yah. They also closed specific demonic portals in Gothenburg, 500km from Stockholm.
Hong Kong – D'vora Cheung
D'vora Cheung has given The Identity Theft to many people within Hong Kong; even unbelievers have picked this book up! She and her team have been worshipping at the Jewish Community Center, selling books of Archbishop Dominiquae in secret. The Chinese government has also relented on imposing vaccinations. They have also been standing in the gap for forgiveness to the Chinese government for signing deals with Iran. Many more anointed things are also happening in Hong Kong, praise Yah!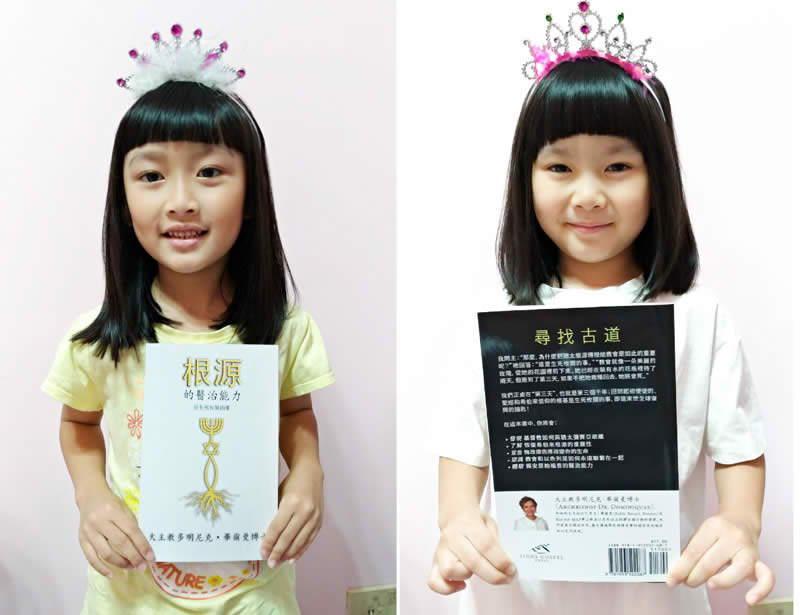 Taiwan – Perach Serena Yang
Perach Serena Yang and her team have made many prayers for Israel during this time, standing in the gap for Taiwan because of the recent attacks on Israel from Hamas terrorists. A new GRM student has joined, as well as a new UNIFY member. Fifty books of The Healing Power of the Roots are heading to the aboriginal brethren in Taiwan. Also, when a serious forest fire had been burning in the highest mountain in Taiwan for eight days already, Perach gathered ten people together to repent of anti-semitism and all sins of the land, and they also sent restitution offerings. On the same afternoon, a wonderful rain fell down from heaven, and the fire was finally quenched and drought overcome!
Papua New Guinea – Pastor Mollie George
In an extraordinary move of the Ruach, PNG is rising and rushing to rename themselves in Hebrew. Not only are their names changing into Hebrew names but also their business names. So many people have called Pastor Mollie and are bearing witness to this change. Pastor Mollie visited a school that renamed itself according to the Hebrew roots! This is an opening for teachings of the Shabbat, the Torah, feast days, and the importance of loving Israel. Even mothers are naming their newborn Hebrew names. We believe this is evidence of the gospel made in Zion moving throughout PNG!
Malaysia stands with Israel!
Malaysia – Pastor Dawid Yosef Lee
Pastor Dawid and his team have been standing in the gap for Malaysia because of the violence against Israel during the Hamas terror attacks. Zoom calls continue to gather the Far East team, with times of teaching, prayer, and praise. They have printed 100 copies of The Healing Power of the Roots in Chinese. Twelve of them are going to Taiwan!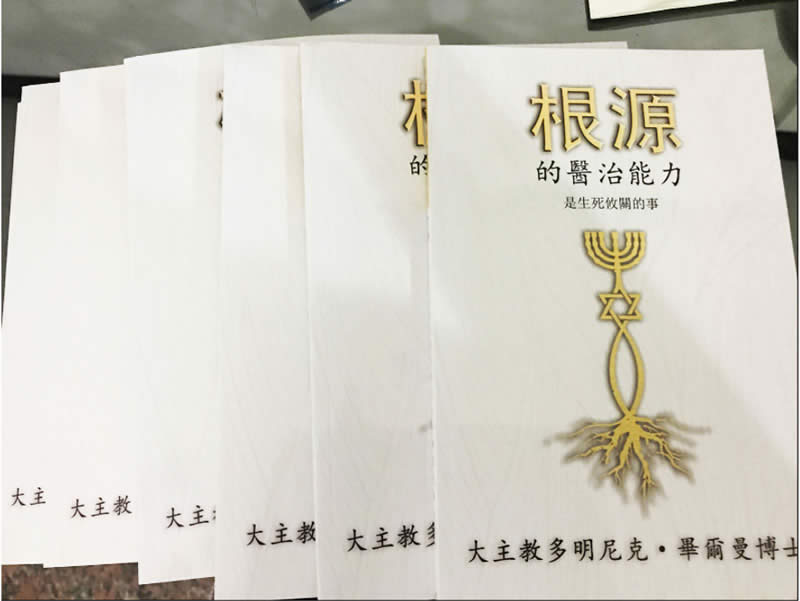 Japan – Yutong Tagawa
Yutong has been praying with Serena Yang and the UNIFY team in Taiwan. They have been praying for Israel, Japan, and Taiwan. She is taking part in GRM Far East online gatherings, standing in the gap for Taiwan to repent of all anti-Semitism. She purchased seven Chinese The Healing Power of the Roots books to take with her to Japan to minister the Chinese speakers there.
•••
During this time, the glory of YHVH is on each of you. Even though the times are dark, we have the kingdom of heaven backing us up. YHVH is following us with signs, wonders, and miracles!
Your Israeli mentors and friends,
Archbishop Dr. Dominiquae Bierman
& Rabbi Baruch Bierman
Join us for 21 Days of Worldwide Fasting & Prayer
Am Israel Chai!
June 27 to July 18, 2021
We will be having 21 days of prayer and fasting to defeat the monster of antisemitism and cruel hatred against the Jewish People and Israel. We will be praying for Israel's salvation and deliverance from all her enemies.
United Nations For Israel Online Conference – July
Tue, Jul 6, 2021 12:00 PM – 2:00 PM (EDT)
As a member, you will receive a personal invitation with a link to the conference by email.
Support the Mission:
Donate online: https://unitednationsforisrael.org/unify-donations/
Please email us at kad_esh_map@msn.com for bank details
Call us in the USA 1-972-301-7087
Checks in USD, Canadian Dollars or British Pounds to be sent to Kad-Esh MAP Ministries, 52 Tuscan Way Ste 202-412, St Augustine, Florida 32092, USA
Western Unions & Money Grams addressed to Adriana Bierman, 52 Tuscan Way Ste 202-412, St Augustine, FL 32092, USA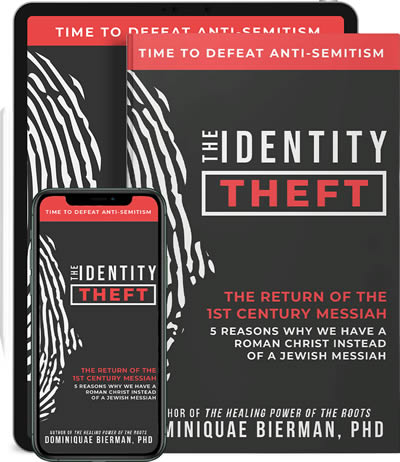 Join a new thing against anti-Semitism.
Discover your identity in Messiah by restoring His identity as a Jew, not a Roman. Archbishop Dominiquae Bierman's new book The Identity Theft & the GRI online course defeats anti-Semitism by showing you the Jewish identity of Messiah. You will learn to walk in first century power and anointing!
*Course access comes with the book only when the book is ordered through the website www.against-antisemitism.com
Join the United Nations for Israel.
You are called to be an Esther to Israel. Be part of an unstoppable force to stand for Israel in your nation!
Join the United Nations for Israel →
Join The 70 Righteous of The Nations!
Support our operation of the United Nations for Israel Embassy in the Jerusalem Hills with $100 a month. Press the button below or email us for more donation options: info@unitednationsforisrael.org
https://unitednationsforisrael.org/embassy/
Subscribe to our YouTube Channel!
Watch the latest broadcasts from Archbishop Dominiquae Bierman and subscribe to United Nations for Israel YouTube Channel!