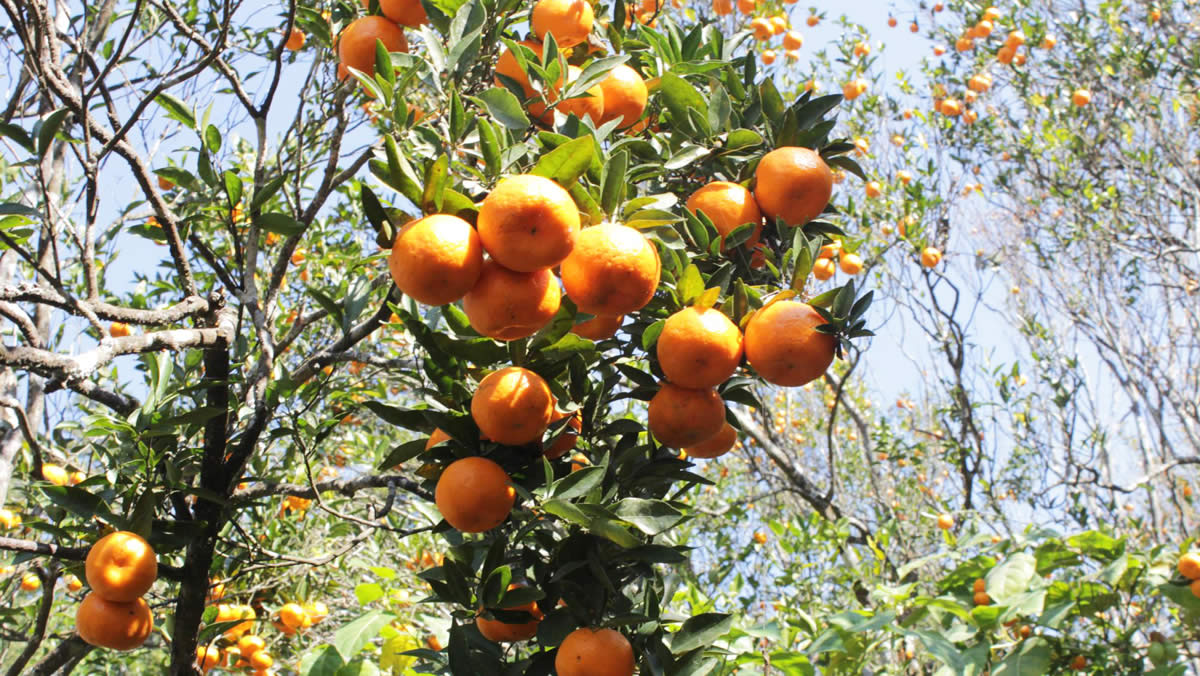 UNIFY UPDATES – September 2021 / Elul 5782
The exiles of this army of Bnei-Yisrael will possess what belonged to the Canaanites as far as Zarephath, while the exiles of Jerusalem, who are in Sepharad, will possess the cities of the Negev. Obadiah 20
Shalom, beloved UNIFY members and delegates,
Part of our mission as UNIFY is the restoration of the Jewish roots of the faith and also of Jews that have forgotten their identity as Jews. Many of our members carry Jewish blood, especially the Sephardic peoples (as Conversos converted to Catholicism). The movement of restoration of the Sephardic has always moved us. The message of repentance from replacement theology, the celebration of the biblical feasts, the MAP (Messianic, Apostolic, Prophetic) revolution is restoring the identity of Jews that have forgotten their identities.
Pray for the peace of Jerusalem — "May those who love you be at peace! May there be shalom within your walls — quietness within your palaces." For the sake of my brothers and friends, I now say: "Shalom be within you." Psalm 122:6-7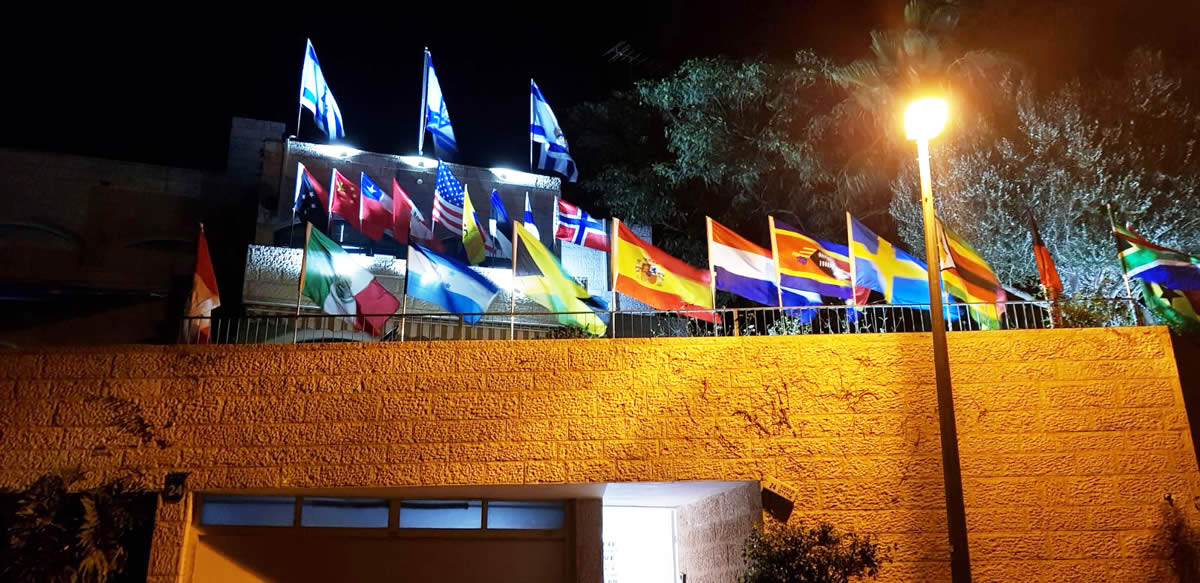 Letting go (Shmita) of UNIFY Embassy
The Embassy building that we rented on the Jerusalem Hills has been sold, which happened just before the Shmita Year began. It is time to move, and Yah has a perfect plan! At this point, the most valuable and historical things are going into storage. Most of the furniture, all appliances, houseware, and kitchenware has been donated mainly to Olim
Chadashim, for new immigrants starting their life in Israel from scratch, and to a new Messianic Rehab for drug addicts. UNIFY continues to be a blessing in the Land!
Jan Karnis, our TV producer, and long-term watchman over the embassy, has been faithfully overseeing the move, and Pastor Anita from Beersheva has been a great help in packing.
We will wait for Yah's perfect timing to unveil our next embassy location, perhaps inside the city of Jerusalem!
Watch the Embassy Memorial video with Archbishop Dominiquae's insightful message here!
In Honor of the UNIFY Embassy Volunteers
Moving to the Orchard!
The wisdom of Yah is so amazing! Right before the embassy was sold, we committed to planting an orchard of 100 trees in Israel. Now at least 122 orange trees have been planted in the Land of Israel in the name of UNIFY. Whenever Israel opens for tourism, people can visit this orchard. This orchard is profound, as we have moved from a stone building into the Land itself. The trees represent our people planted there! The sign for this orchard will say, "This orchard was planted by the United
Nations for Israel with members of many nations," along with the scripture of Zechariah 2:15-17.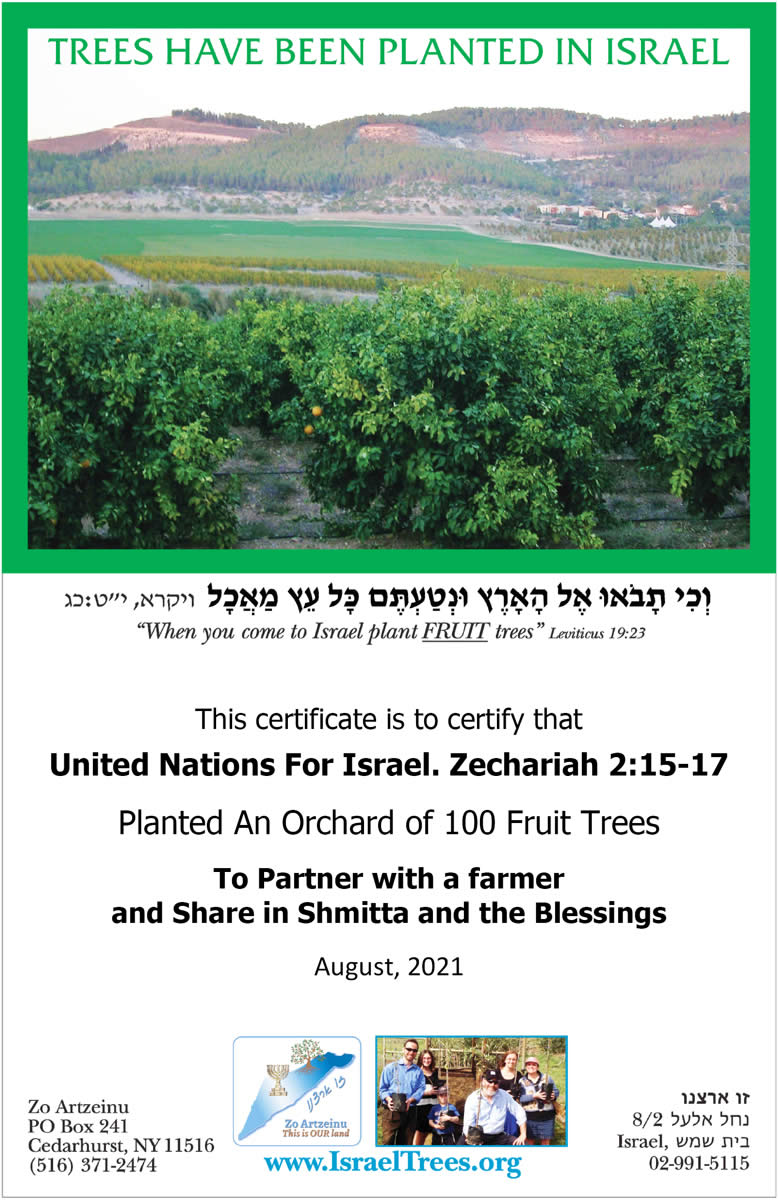 'In that day, many nations will join themselves to YHVH, and they will be My people, and I will dwell among you.' Then you will know that YHVH-Tzva'ot has sent me to you. YHVH will inherit Judah as His portion in the holy Land and will once again choose Jerusalem. Be silent before YHVH, all flesh, for He has aroused Himself from His holy dwelling." Zechariah 2:15-17
To put their foot in the Land, the Jewish National Fund planted trees throughout Israel. Similarly, Arab's 'claim' land against Jewish settlement by planting a single olive tree, and then say, "That is my land because my olive tree is there." As we plant these trees, that Land we can claim belongs to us, which is for the Kingdom of Yah.
During the disengagement from Gaza in 2005, Israel moved 10,000 Jews away from biblical Land. These Jews worked tirelessly, even with the blessings of Arabs, to make the accursed sands of this place bloom, and they did! The Jews made the sands bloom in Gush Katif. Archbishop Dominiquae and Rabbi Baruch were there with them to the day of the disengagement. They were the intercessors at the last moment and gave them one of the last offerings, saying that they would return to the Land. This offering was $3,000.
When Archbishop paid for UNIFY to plant these orange trees, she did not know where this orchard would be located. Afterward, she found out they were in Shavei
Darom, which means "the returnees to the south (the Negev)." This community is the survivors of Kfar Darom that used to be in Gush Katif. Miraculously, the cost of planting the trees was also $3,000. They are strategically placed at the gate of the Negev. These trees will bring hope, life, and food to these settlers that have gone through so much grief and distress. What a message of hope for the future!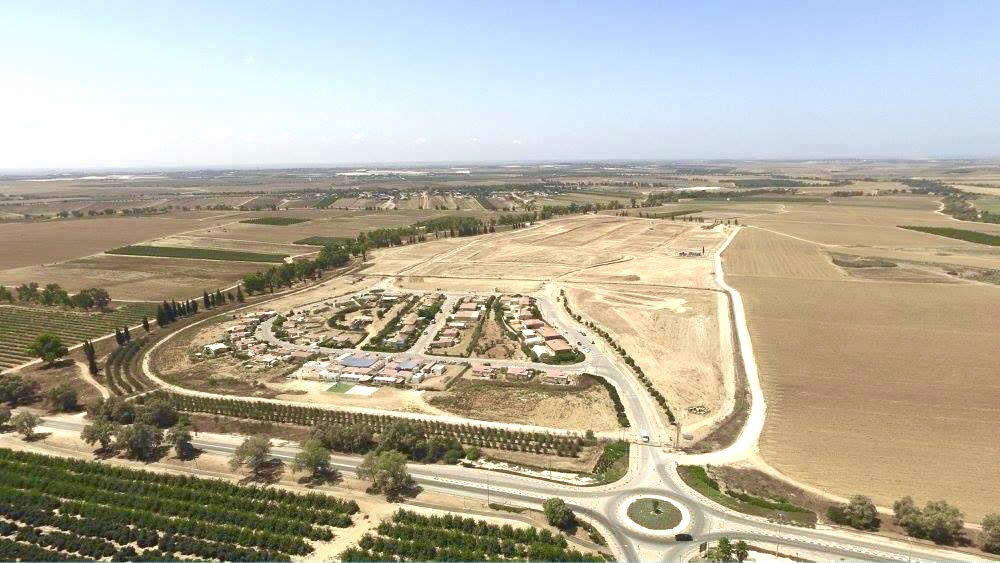 Now we know that all things work together for good for those who love God, who are called according to His purpose. Romans 8:28
Thank you for all your efforts, sowing, and giving. The Embassy is in Shmita. What's going to happen is a comeback, an act of holy revenge. Something big is going to happen, but we can't force it to happen. What we can do is continue being faithful with what He has called us to do.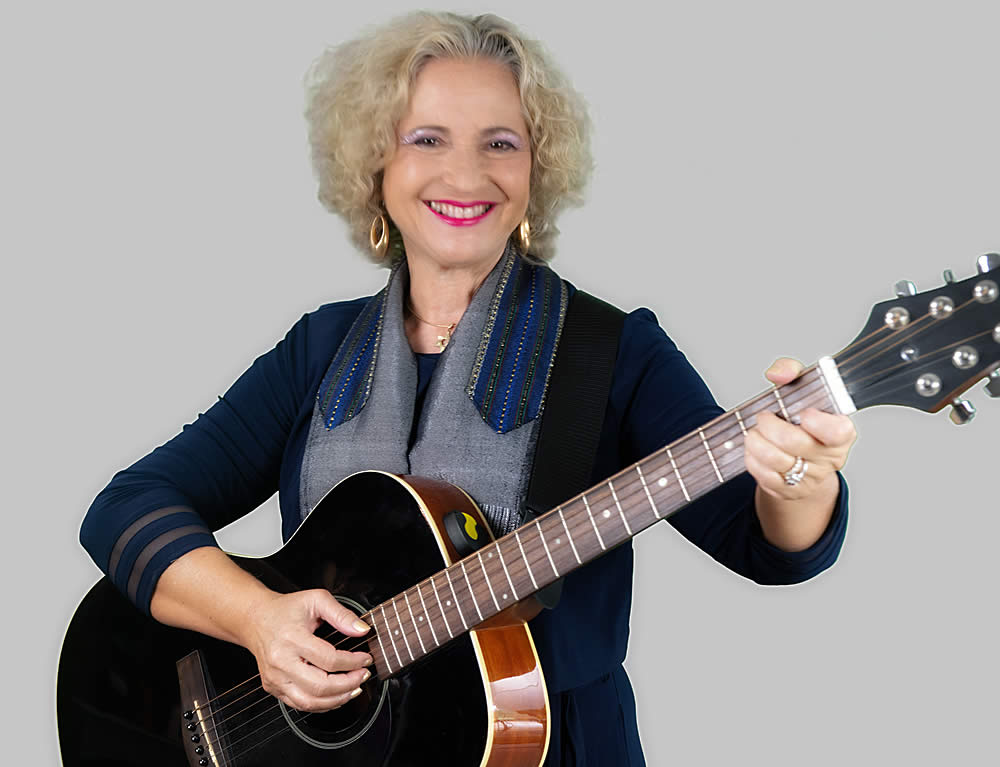 National Reports from UNIFY Delegates
New Prophetic Songs are Being Recorded!
Archbishop Dominiquae Bierman, USA
The Ruach has led Archbishop Dominiquae to produce a new music album titled Tribute: To the Jew in You. She has just begun recording the songs, and we should expect the album to be complete in October. Lu is the name of the producer we have found in St. Augustine, Florida. With over 25 years of experience, he has artists travel from Nashville to his studio! He's a very talented multi-instrumentalist, audio engineer, songwriter, and composer.
We are looking forward to all of you enjoying the new music that Archbishop has received prophetically during the past couple of years. We will keep you updated!
CALL TO ACTION: We invite you to donate to this album's production by visiting https://kad-esh.org/donations and commenting "TRIBUTE" in the notes of your generous gift.
Overcoming the Demon of Corona!
Mexico, Pastor Cesar
In the past month, the enemy's frontal attacks began against them, but they could recognize that it was all a plan to discourage and hinder the work of YHVH in Mexico. Pastor Cesar has had many family members struck with COVID-19 but healed, despite severe symptoms. And even though they took care of them in their own home, Pastor Cesar and Nelda stayed in perfect health!
He and his team have also been going on prophetic missions to break down enemy strongholds in the Spirit through prayer and blowing the shofar. Their congregation also held a summer school for the children, teaching them the biblical festivals. It ministered to them deeply, and they also learned various songs in Hebrew. On top of it all, Archbishop Dominiquae sent them an offering, and it covered all the expenses they had incurred; literally, 100% of the costs were restored to them!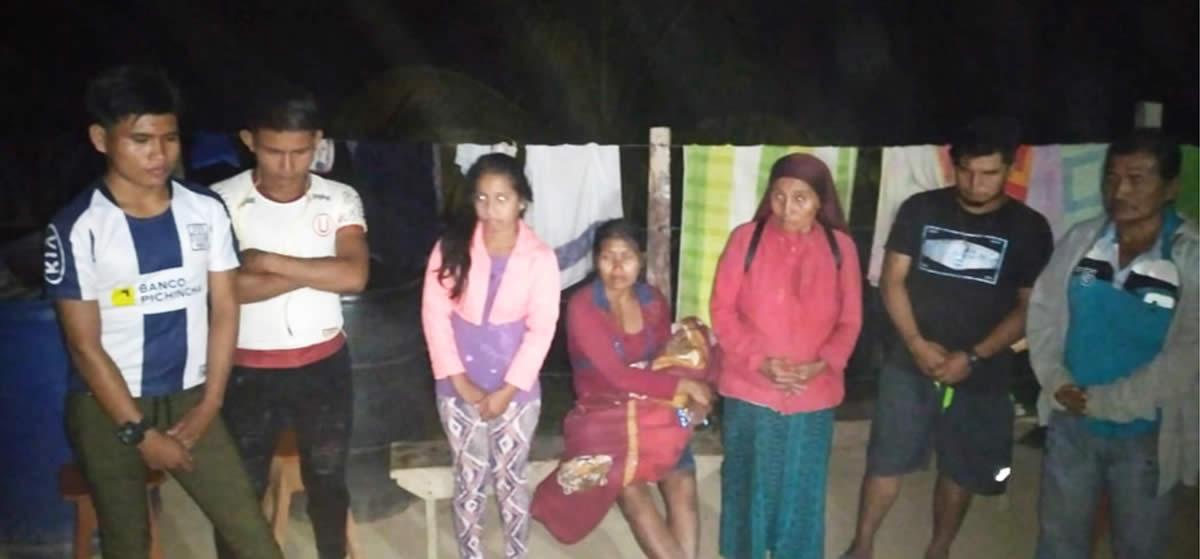 A Family Set Free from a Religious Sect!
Pastora Sonia Gotelli, Peru
Pastora Sonia has been working faithfully along with her team, gaining three new GRM students. Six of their students have concluded the lessons and quizzes and are now reading the books for Level Three. Two soon-to-graduate students were married in May. Now they expect their first child and are assigned by their church to teach the Hebrew roots to all the small groups of that congregation! Also, an entire family that was almost being baptized in the name of Jonas for an Israeli sect got saved! When they heard the Word, they were delivered, and they did their
mikveh in the name of Yeshua! Last but certainly not least, the Ima Bat Ami group started their weekly meetings with 14 members, including two ladies of the jungle region. Yah is moving among the natives!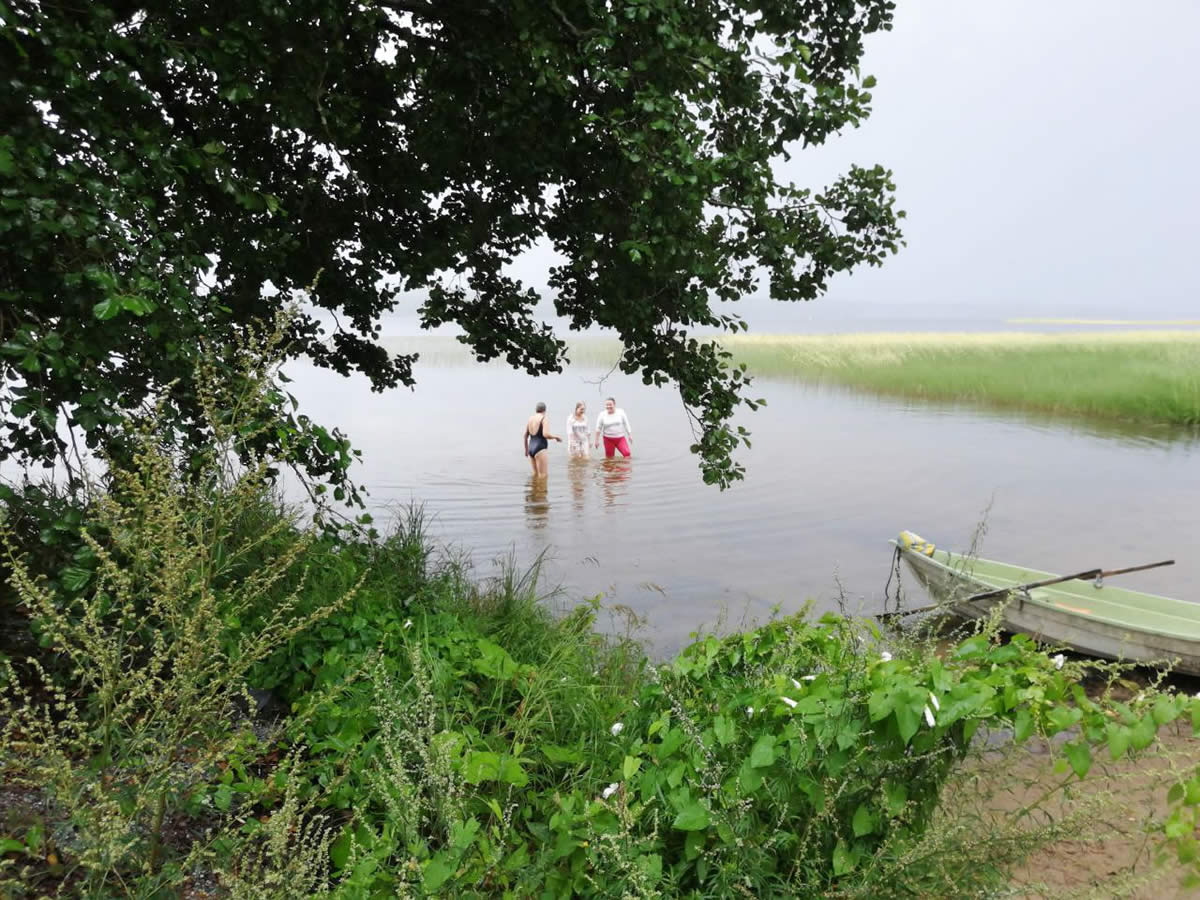 A Young Mother from Lapland got Baptized in the Name of Yeshua!
Pastor Terhi Laine, Finland
Pastor Terhi and her team had a mikveh-baptism party, and a young mother traveled from Lapland far to central Finland for her mikveh. Although her physical condition was against traveling, on top of taking the children, she had a burning desire for baptism in the name of Yeshua!
YHVH called the Apostle Mama-Saara to the glory on the fifth of August. She was a general of the faith, an intercessor, and an unyielding fighter, always ready to teach about bringing Yah's glory, goodness, joy, and above all, loving Israel and the Jewish people. We salute her!
Pastor Terhi also had Shabbat meetings in two new homes, and street evangelism of the gospel made in Zion has continued in Oulu and the church. The Holy Spirit is working!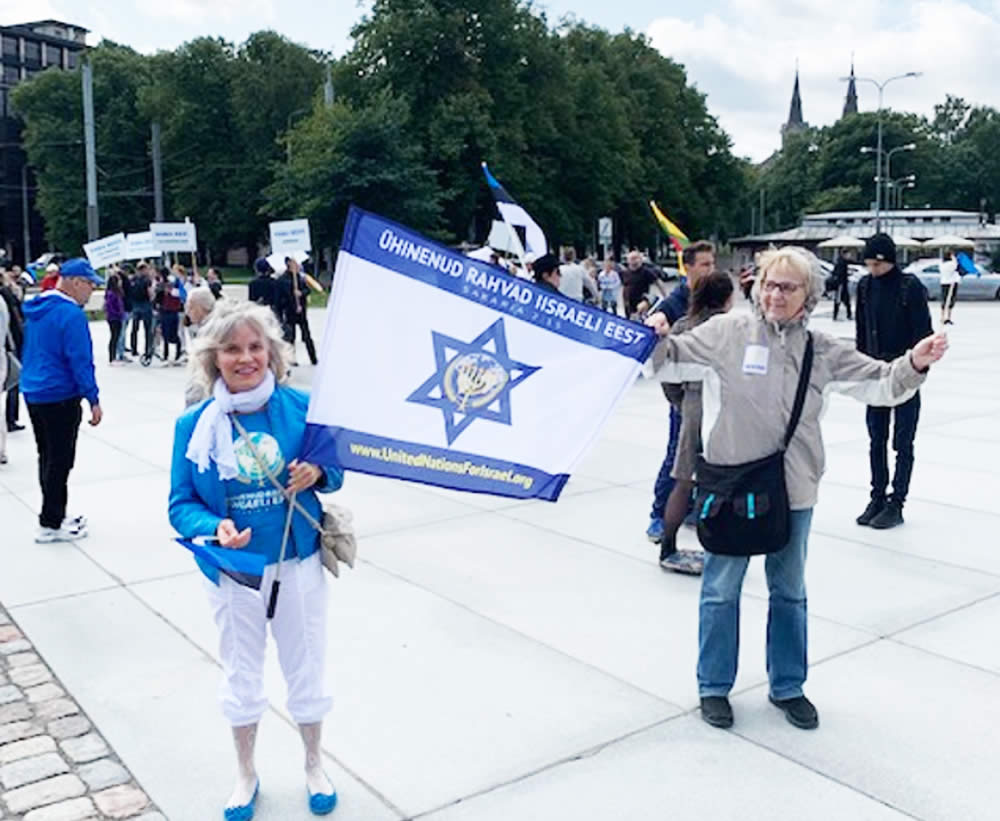 Lifting the UNIFY Flag in the Baltic Chain Event
Eicha Lohmus, Estonia
Eicha has been standing in the gap for her country by participating in the Psalm 64 fast, breaking down the spiritual strongholds of the New World Order, the globalist agenda, and COVID-19 deceptions. She also attended the anniversary event of the Baltic Chain together with another team member, Shlomit. Thirty-two years ago, the people of Estonia, Latvia, and Lithuania created a human chain, hand in hand, standing against Russian tanks sent from Moscow to suffocate the Estonian Republic that was born three days prior. Demonstrations against COVID-19 vaccines ensued, as it is looking to become a mandatory policy. Eicha and Shlomit took part in these events, carrying Estonian and UNIFY flags. They experienced harassment from at least one Christian who spit on the flag, claiming that the church is the new Israel. Some people came to ask questions and showed their appreciation, wanting to have pictures with them and the flag. "Cold and hot showers," all for the glory of Yah!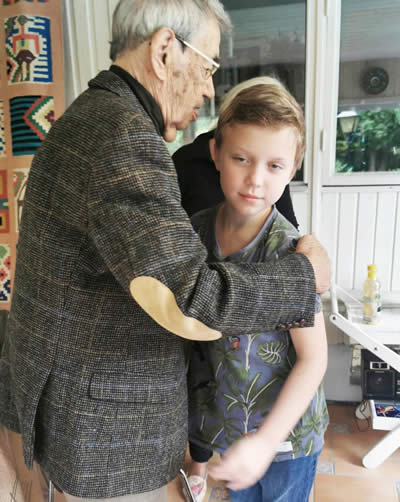 Honoring a 97-Year-Old Shoa Survivor
Apostle Sana Enroos, Sweden
Apostle Sana Enroos has done many powerful, prophetic missions around the country this month. In addition to that, she has been showing love to the Jewish community in a very special way. She and her family met 97 seven-year-old Shoah Survivor Emerich Roth, who survived five death camps during the Nazi Devastation. They spent 2.5 hours there discussing anti-Semitism in Sweden and how to continue the education about the Shoah. He has left a legacy in Sweden by teaching Swedish school children and young people about Shoah for 30 years. Many young people have left gangs and criminality.
It was his 97th birthday the day before their visit, so they honored him with flowers and gifts. Apostle Sana felt this was an important opening and an act of love and respect towards this precious Jew. Later the same week, she delivered a prayer cloth to him and, before Shabbat, two loaves of challah bread. He and his wife were very touched and grateful for everything they did. Apostle Sana is willing to serve them and every Jew as an act of restitution.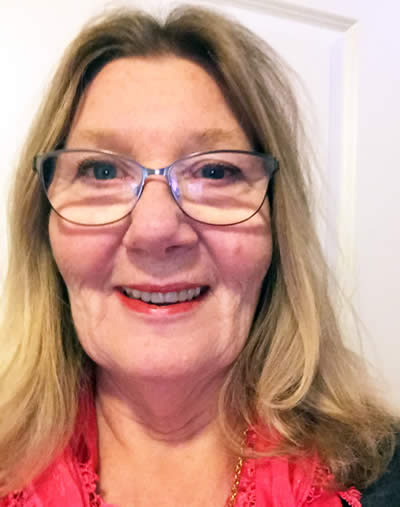 New Vice Delegate selected
Pastor Hanne Hansen, Norway
Pastor Hanne and her team in Norway have selected a Vice Delegate for UNIFY, Unni-Elisabeth Støver. Mazel tov! They have been taking part in the prayers and fastings for Israel. Pastor Hanne continues to attend the weekly Zoom meeting with Bønnelista, the organization that works to bring the Bible and Holy Spirit back to the Norwegian church. She also continues to attend weekly lunches in a synagogue so she can bless them, be a light for them, and make them jealous of our faith in their Elohim and the Jewish Messiah Yeshua!

Celebrating Rosh Hashanah with the Sephardic Jewish Community
D'vora Cheung, Hong Kong
Sister D'vorah has been opening her gift of apostolic ministry as well as casting out demons, sharing The Identity Theft book, and planting trees prophetically to consecrate the land, using prayers, anointing oil, and the shofar blow. She is expecting to see the difference between the harvest that her trees will bring compared to the nearby planting of others, as she is committed to giving Shmita year rest to the trees she has planted.
D'vorah continually provokes Jews to jealousy to have their Messiah through many divine appointments, especially recently in the local Sephardic Jewish community where she was invited for a Rosh Hashanah celebration. She is now receiving the fruit of her labors from the past because she is blessing the Jews (Genesis 12:3). She has also opened an Ima Bat Ami group, sharing Rabbi Baruch's book, The Woman
Factor, with them to break any religious ice that would stop them from grasping the anointing.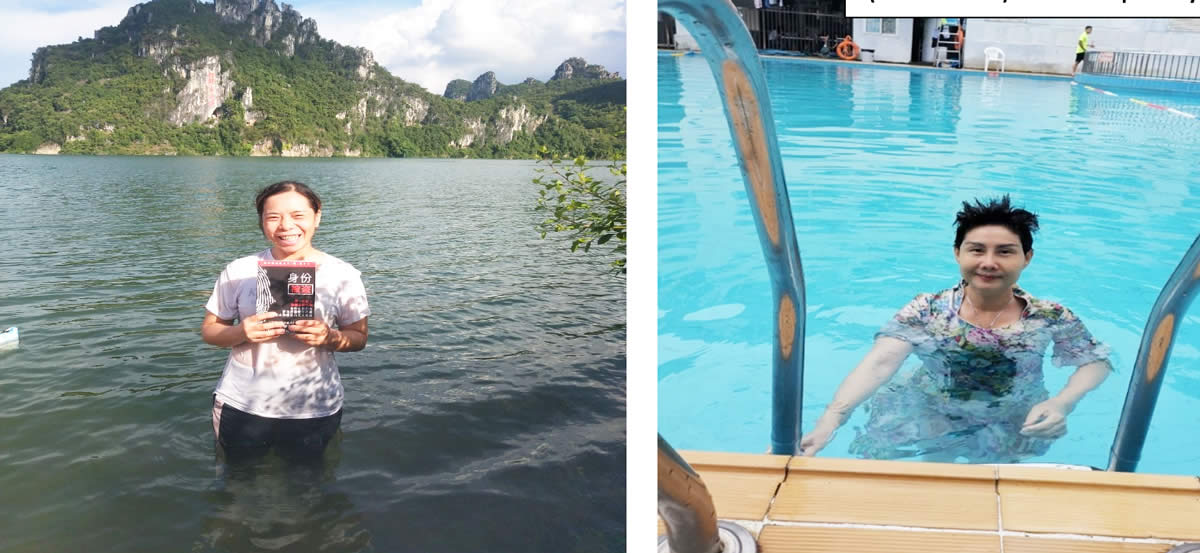 China is Coming in, One Person at a Time!
Hadassah Ping Jing, China
Our sister Hadassah has been traveling apostolically to baptize and disciple many people. She has organized two mikveh-baptisms in the name of Yeshua, and also brought on board two new UNIFY members. She is meeting regularly with her Ima Bat Ami group. We are turning China into a sheep nation, one person at a time!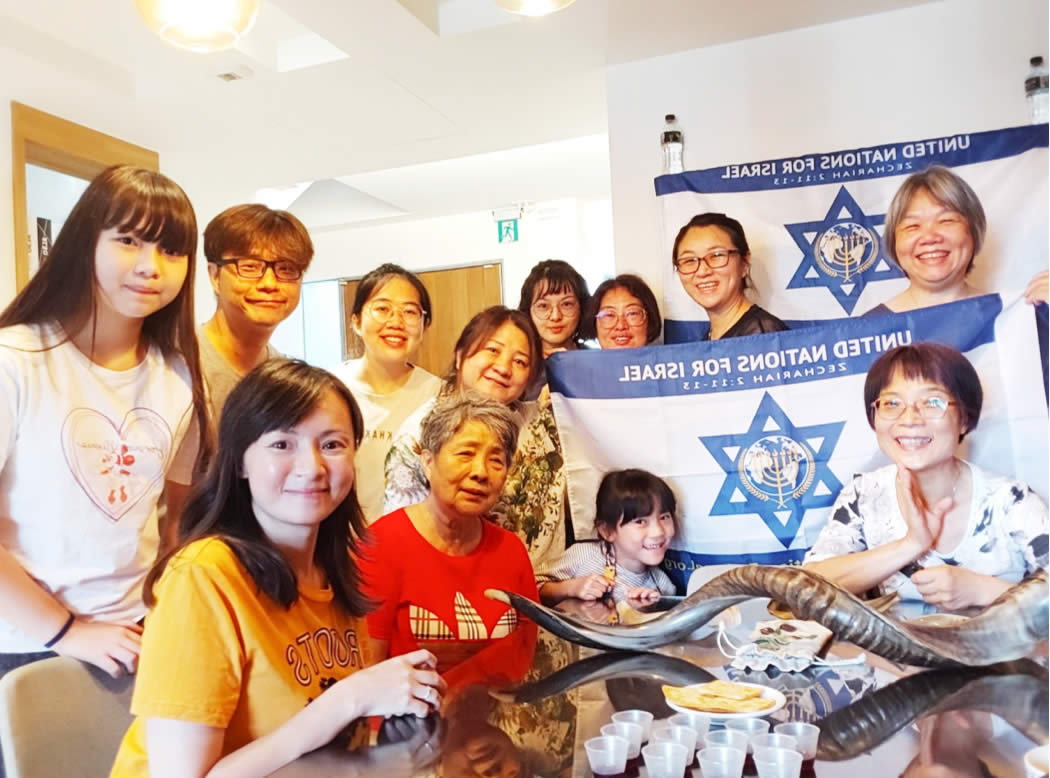 Ima Bat Ami Groups are Bringing Inner Healing
Perach Serena Yang, Taiwan
Serena Yang has been pulling on the Ruach in her country, gaining seven new GRM students and two new UNIFY members. They have held prayer meetings every night, praying for Kad-Esh MAP Ministries, UNIFY, GRM, students, families, and themselves. Serena Yang and her team have also hosted Ima Bat Ami groups with tremendous, answered prayers and inner healings. They have held many meetings, gathered in immense love, seen visions, and broken through strongholds together. Praise YHVH for what He is doing in Taiwan!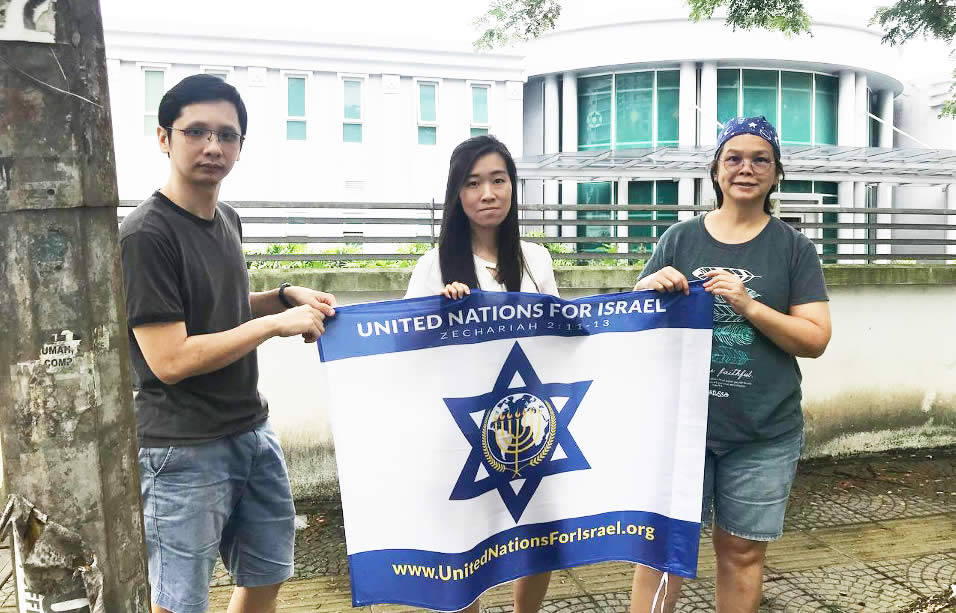 Malaysian Laborers Overcoming the Lockdown!
Pastor Dawid Yosef Lee, Malaysia
Pastor David has been working with his team to revolutionize the life of billions of Chinese speakers by bringing all of Archbishop Dominiquae's books into Simplified and Traditional Chinese. So far, they have completed 13 books into Traditional Chinese. The latest books printed in Malaysia are Stormy Weather, Restoration of Holy Giving, and Eradicating the Cancer of
Religion. They also have completed recording the 81 GRM lessons based on the Chinese scripts translated from Archbishop Dominiquae's videos. They intended to provide the scripts and the 81 lessons in the upcoming GRM online for Taiwan in Traditional Chinese. Praise YHVH – amid an extended lockdown, they are becoming a real Joseph's storehouse!
They have also done vital prophetic missions against the New World Order and Covid terror in key locations such as at Pharmaniaga Manufacturing plant and in front of the freemasonry hall, sounding shofars and proclaiming the Word:
They are plotting injustices: "We have completed a perfect plot! A man's inward part and heart are deep. But God will shoot them with an arrow— suddenly their wounds will appear. So their tongue will be their downfall. All who see them will flee away. Psalms 64:7-8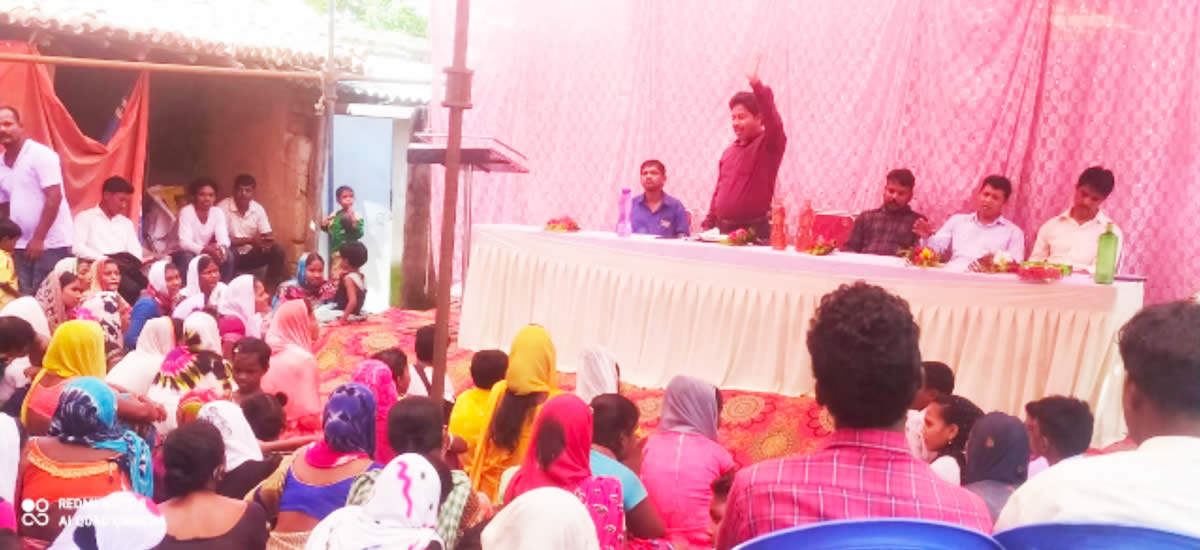 Proclaiming the Name of Yeshua in India
Pastor Surendra Kumar, India
Pastor Surendra has been visiting a plethora of village congregations proclaiming the name of Yeshua in three different districts in Odisha, India. He is preaching in boldness, with the Lion of Judah, the gospel made in Zion! Many people are being blessed in the name of Yeshua and healed in His name from different diseases. Please pray for their teamwork in all the states of India!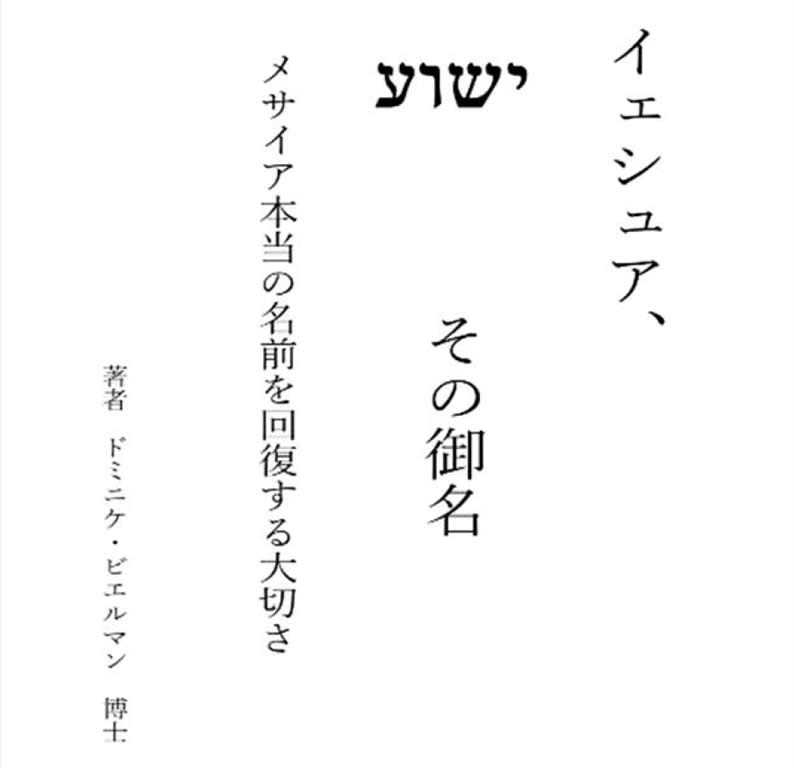 Yeshua is the Name Book is Being Translated into Japanese!
Yutong Tagawa, Japan
At the beginning of August, Yutong began to translate Yeshua is the Name into Japanese. And though her husband is not a GRM student, he will help her proofread: This is a huge blessing and will indeed plant many seeds in his heart! Yutong has been sharing The Identity Theft book with people, along with Archbishop Dominiquae's Shabbat letters. Her mother has also joined a GRM Taiwanese gathering in Tainan, Taiwan.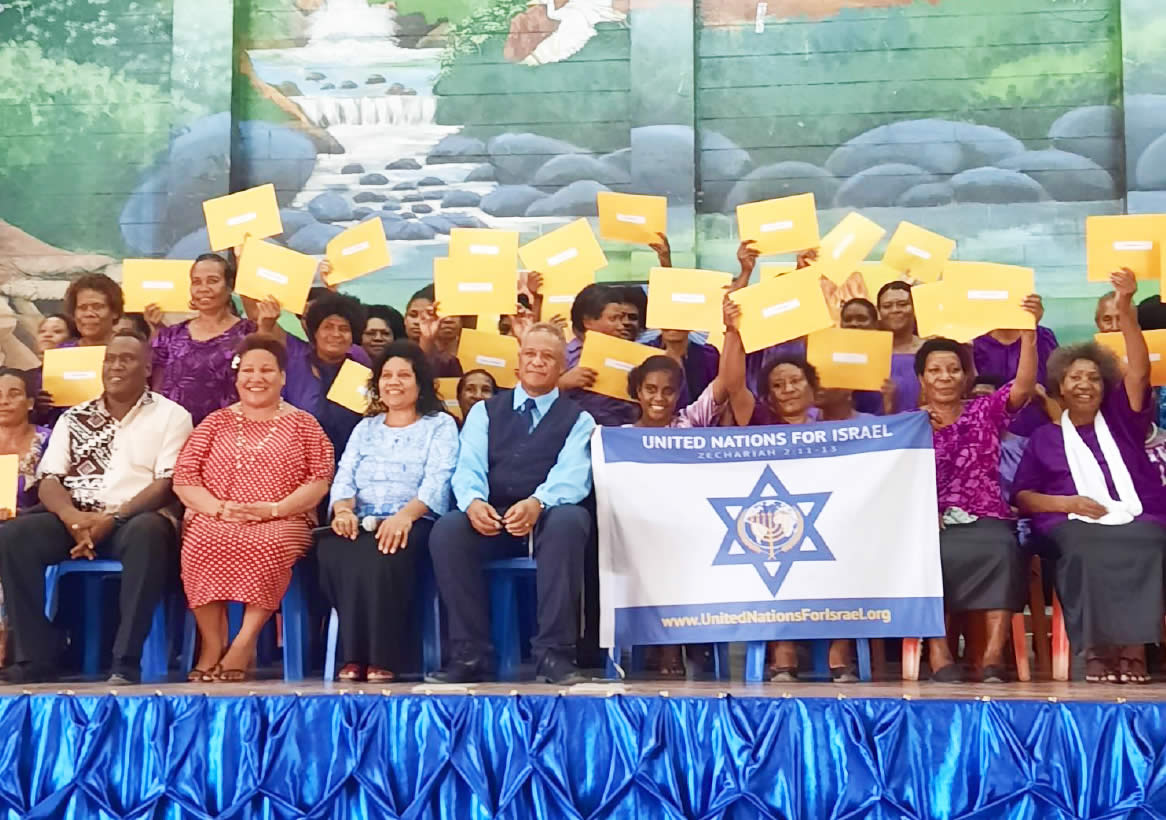 Representing UNIFY in an Interfaith Roundtable Meeting
Pastor Mollie George, Papua New Guinea
Pastor Mollie was called directly from the US Embassy Ambassador for PNG to represent the Messianic Jewish faith within an interfaith roundtable meeting. Pastor Mollie's research found out that the Ambassador wanted another faith that had a strong connection with the Jewish faith, so she called Pastor Mollie because of her involvement in the MAP Movement in PNG and other forums that she has engaged in as a conference speaker. After some heated discussions, surprisingly, the two representatives from the Bahai faith quickly moved toward Pastor Mollie and asked, "please tell us more about your Messianic faith and everything," and she did! Outside of this meeting, their Ima Bat Ami group kicked off with Bible studies, and many of these women are not fully literate, so the studies were tailormade to their learning. Praise Yah for all that is happening in PNG; may revival doors open up, even in the government in Yeshua's name!
–––––––––––––
As you have read, we received many wonderful testimonies and reports from all the nations. There is much reason for rejoicing! Keep up the efforts, and we will continue to see much fruit!
Your Israeli mentors and friends,
Archbishop Dr. Dominiquae Bierman
& Rabbi Baruch Bierman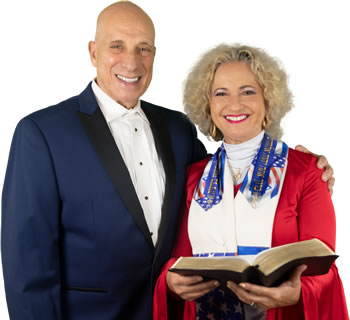 Join the United Nations for Israel.
You are called to be an Esther to Israel. Be part of an unstoppable force to stand for Israel in your nation!
Join the United Nations for Israel →
United Nations for Israel Online Conference – October
Tuesday, October 12, 2021 12:00 PM – 2:00 PM (EDT)
As a member, you will receive a personal invitation with a link to the conference by email.
Support the Mission:
Donate online: https://unitednationsforisrael.org/unify-donations/
Please email us at info@unitednationsforsrael.org for bank details
Call us in the USA at 1-972-301-7087
Checks in USD, Canadian Dollars or British Pounds to be sent to Kad-Esh MAP Ministries, 52 Tuscan Way Ste 202-412, St Augustine, Florida 32092, USA
Western Unions & Money Grams addressed to Hadassah Paloma Danielsbacka, 52 Tuscan Way Ste 202-412, St Augustine, FL 32092, USA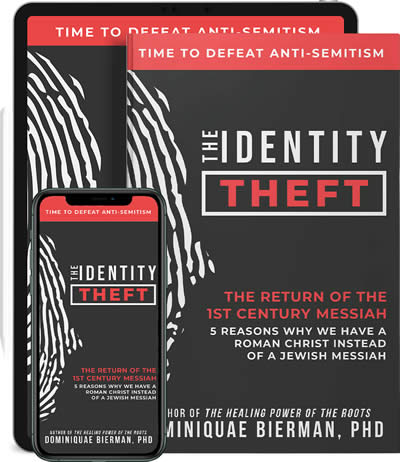 Join a new thing against antisemitism.
Discover your identity in Messiah by restoring His identity as a Jew, not a Roman. Archbishop Dominiquae Bierman's new book The Identity Theft & the GRI online course defeats antisemitism by showing you the Jewish identity of Messiah. You will learn to walk in first-century power and anointing!
*Course access comes with the book only when the book is ordered through the website www.against-antisemitism.com
Join The 70 Righteous of The Nations!
Become a special partner of the United Nations for Israel by committing to a monthly love gift of $100 or more. Press the button below or email us for more donation options: info@unitednationsforisrael.org
Subscribe to our YouTube Channel!
Watch the latest broadcasts from Archbishop Dominiquae Bierman and subscribe to United Nations for Israel YouTube Channel!