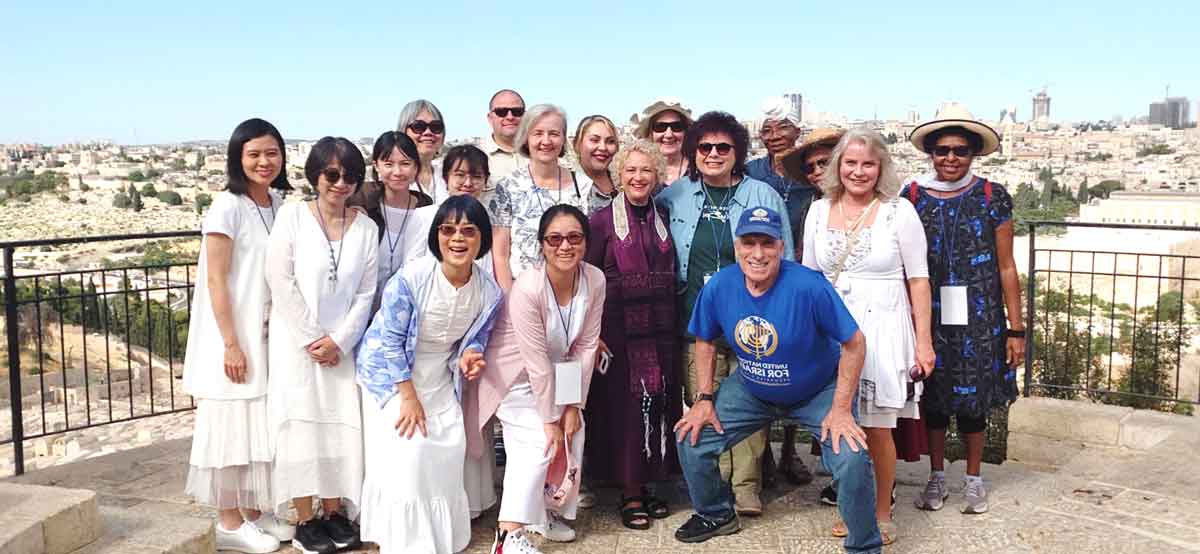 UNIFY UPDATES – June 2022 / Sivan 5782
Righteousness is going before Him and prepares a way for His feet. Psalm 85:14 TLV
Last month we read in our monthly UNIFY Updates: Be encouraged to "Fly Higher, See Higher and Aim Higher" in this new year! We are reprinting these words for you to review, before reading the powerful testimonies from the Shavuot Tour 2022 presented this month:
This Prophetic Word was released in the triangle area between Jerusalem, Hebron and Bethlehem: Hebron, the area of the first title deed of our inheritance – Jerusalem, where Yeshua will return to rule and reign over the nations – and Bethlehem, where Yeshua was born. A holy triangle, a holy year, set apart and separated unto YHVH. In the midst of judgment and shakings, YHVH Perazim is on the move defeating Baal!
This is the season to defeat Baal in the church, in believers, in Israel – everywhere! UNIFY is uniquely positioned for this purpose. Remember that Kingdom advances are made during adverse winds: eagles always remount and go higher. So, we are also aiming higher as we move together with YHVH Perazim. UNIFY / Kad-Esh MAP is an anointed ministry which is an "apostolic spearhead", opening up territory for Sheep Nations as they connect to the gospel made in Zion.
Well, as we report this month you will be excited to hear that our Team on this current Shavuot Tour has truly been "Aiming Higher" – as high as the Temple Mount itself! Be encouraged as you read Psalm 85, for this is the heart of Israel praying, "When will we see You again?" – crying out from a place of deep brokenness. And now we know why this Tour is called The Prophetic Restoration of Israel.
Will You not revive us again, so Your people may rejoice in You? Psalm 85:7 TLV
Archbishop shared that there were a certain type of people among the Israelites who first came into the land of inheritance with Joshua, but a different people group is coming into Israel now: gathered from many nations and cultures, these are persecuted and rejected people. Some have been attached to the God of Israel through Judaism – others (like Russians) have had no attachments. Some were converted to Catholicism, like the Sephardics. The Israel of today will not act like those entering years ago. Many of those today have their hearts broken, not knowing if they will see the goodness of God in the land of the living.
YHVH says He will restore them. "Righteousness goes before Him" was this Tour's theme – and we know righteousness and mercy kiss each other; it happened with Yeshua the first time too. The first phase of Israel's restoration can be described like my own father bringing a boatload of Chilean Jews to the Land. The second phase of Zionism is now about the prophetic and spiritual restoration of Israel.
Yeshua will not return to the Mount of Olives until righteousness goes before Him. How many of the thousands of tours over the years have had righteousness going before them? Did they fulfill their purpose for coming – or did they just enjoy their visit? The laborers are few – labor, like as a mother giving birth. And we know a mother must die to herself. This Tour was truly an act of loving labor for Israel's restoration to be realized.
Our faithful UNIFY members have proven they are willing to pay the price for righteousness to go before Him. Through revelation of the Holy Spirit, we learned about the portals and altars here in The Land – and were instructed toward doing repentance, dedicating altars to Yah, or whatever He directed.
We have felt like salmon swimming upstream here in Israel, amidst all the heaviness over the last two years due to covid closures and isolation. Despite all the challenges, our group has come, even fighting to get onto the Temple Mount – after they said that Jews cannot enter during the Feast. We marched on, unhindered as the door opened for us to have access onto the Mount. We boldly went forward, aiming higher, proclaiming that "Yahveh Perazim is on the move, tearing down the altar of Baal". Then Archbishop was ordered on the Mt. of Olives to "open up the portal for My return". She said she has never done this before. What a weighty operation, with each of our 18 members standing in agreement and taking authority over this area for His glory!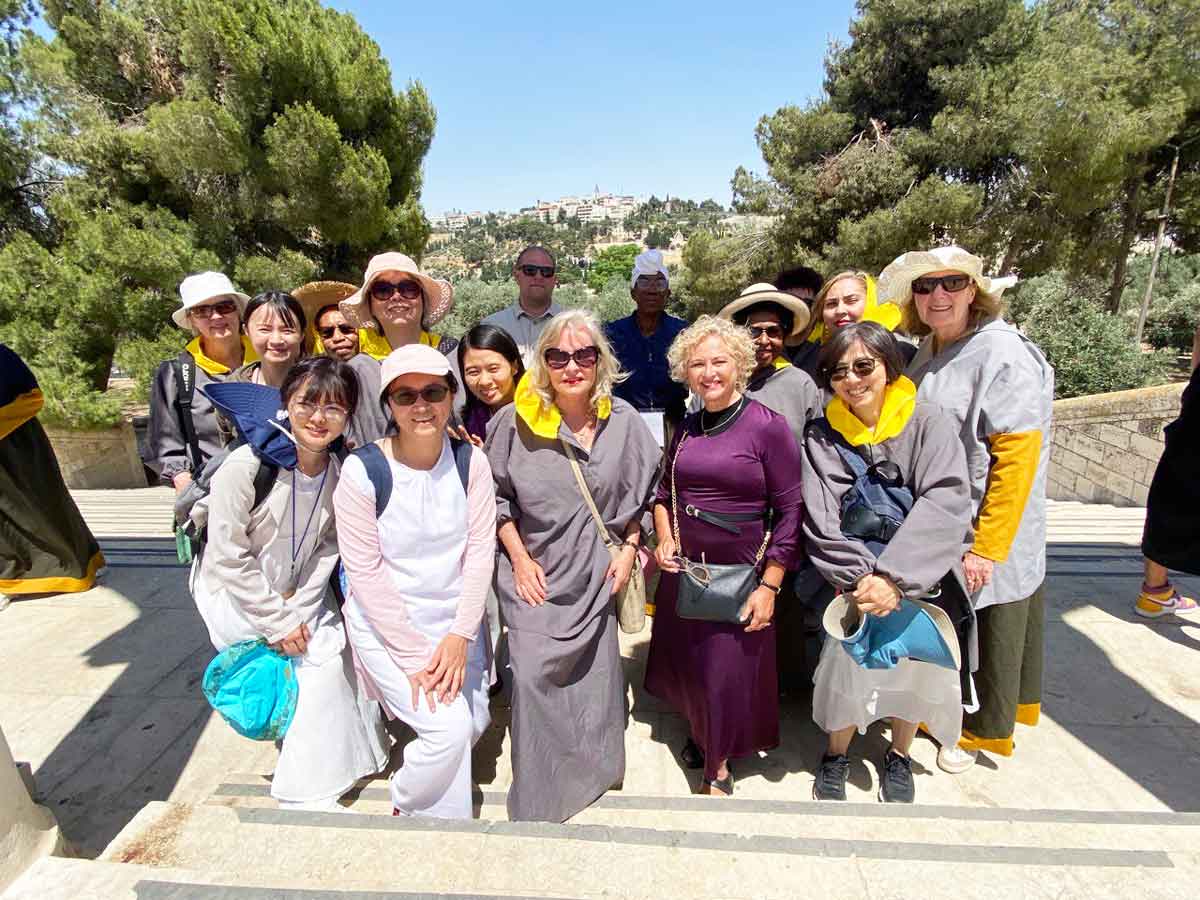 Surely His salvation is near those who fear Him, so that glory may dwell in our land. Psalm 85:10
On the outside it looked like an average tour, but we were truly on a special assignment. Much warfare is happening here – we must operate undercover and under the radar – and prayer coverage from all in UNIFY are essential.
The following testimonies were given by a few participants on what each has experienced during the first 3 days of the Tour – it has been quite profound!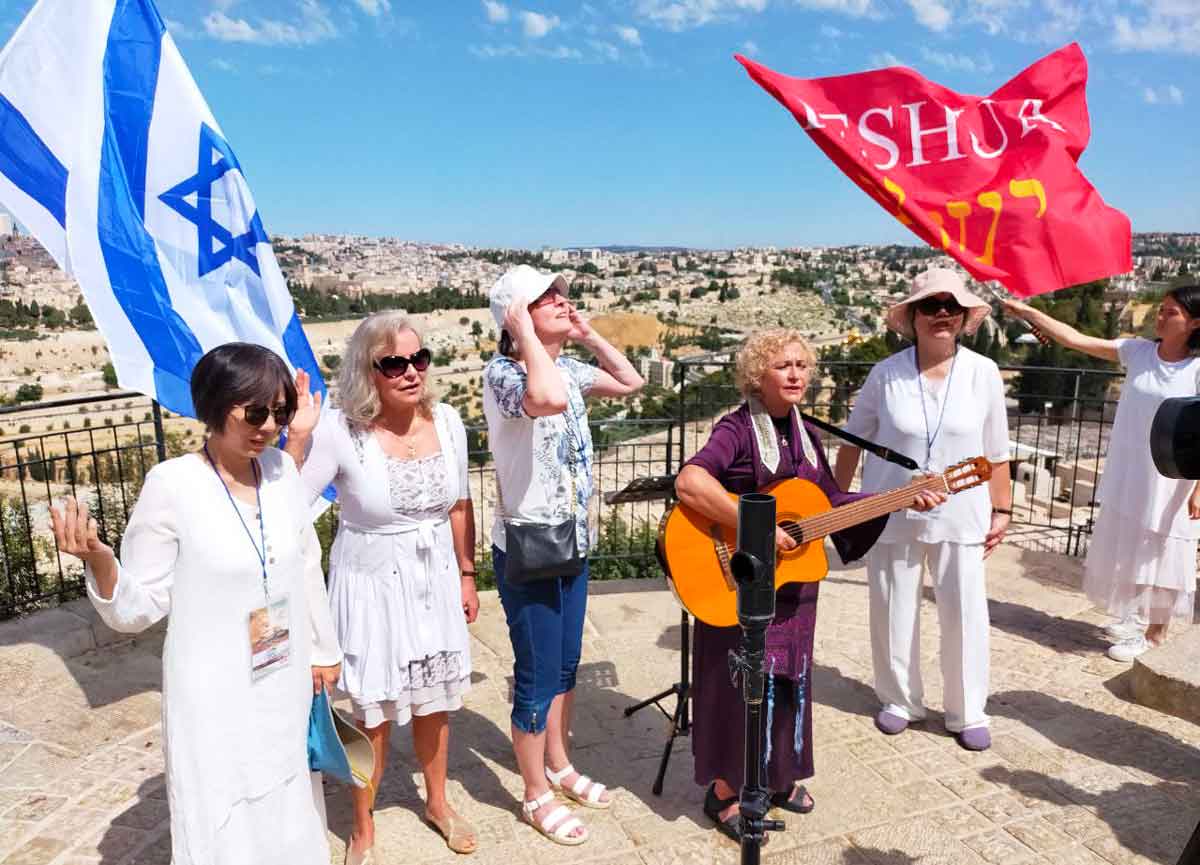 Pastor Hanne Hansen from Norway shared about the Temple Mount march: the hot weather and heavy clothes covering we were required to wear to be on Temple Mount was not a problem, as Yah's protection was felt like a light garment. It was a privilege to be on this assignment, as we will see sheep nations form.
Paulette Cowan from USA shared: on the Temple Mount we were like Gideon's 300 men lapping the water. And everywhere the soles of our feet tread He will give it to us. Yeshua is doing a work in the Land – using a few to hold up the hands of Archbishop and Rabbi to tear down strongholds, not by might nor by power, but by His Spirit. Israel is the only nation that has a promise of natural salvation. We are standing in the Spirit for that to happen. This Tour is preparing Israel for this.
Eunice Gware from PNG shared about the visit to Shiloh: When we were at the historical site of the tabernacle in Shiloh, I wondered why Archbishop told us to work in this hot sun. But I humbled myself and worked. Little did I know that I was actually standing precisely on the site of the Holy of Holies, and heard the Spirit say that when I return home I will be a commander in my homeland. We understand that we have come under the radar for the salvation of Israel.
Jessica Lee from Taiwan (in the Land for the first time): I had overcome cancer last June and wanted to come to Israel to bow at the Western Wall, to thank Yeshua for this healing. Such joy was experienced there.
Erika Mendoza from California shared a testimony from Kotel first, then the Dead Sea: you could feel the demonic oppression there, as my spirit grieved from the desecration that has happened at this strategic place. "Wake up church – Wake Up! Wake Up!" I heard. As I was backing away from the Kotel, there was a pulling in my belly button – truly I did not want to leave. It was pulling the inside of me, and I heard, "you are leaving, but My presence is going with you".
Then at the Dead Sea I heard these words: "You are the salt of the earth" – but we are not dead, we are alive in Him. This trip is to understand that we are His possession. This area was formed after Sodom and Gomorrah's rebellion and destruction – and it speaks that we can also become too salty or stagnant, with no life in us, like this sea. Where there is no repentance, no doing what you are supposed to do, you become stagnant – having no life. This is what our churches are: there is no life, so no fish can stay there – even though we are to be fishers of men. It is time to wake up!
Archbishop Dominiquae agreed that each has gone through profound experiences and next is the mikveh of the Bride. After the Jordan River consecration, you will all come out lighter, she exclaimed.
Each Tour participant has been "poured out" and yet have experienced His outpouring at the same time. What an exciting prophetic time to be in Israel!
Reports from the Nations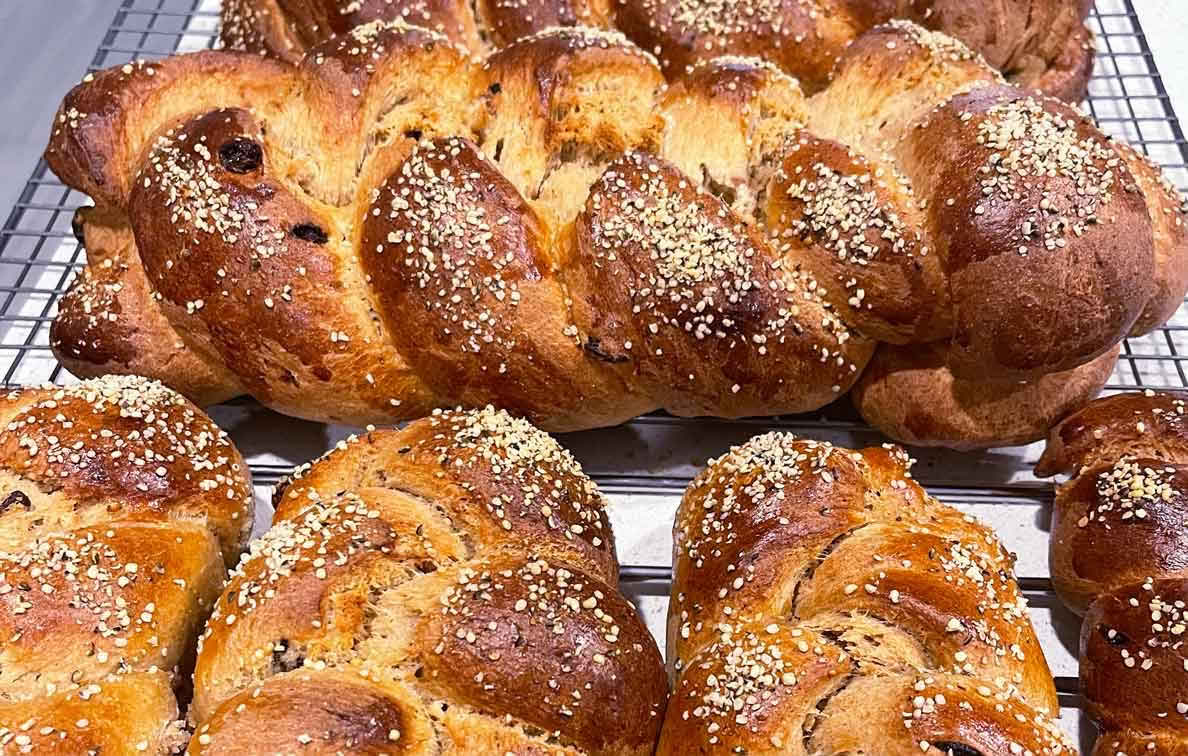 Prison Ministry, Precious Challah for Prisoners at Shavuot
Hadassah Danielsbacka, USA
As the Feast of Shavuot approached, multiple loaves of challah bread were lovingly baked to be enjoyed by those imprisoned in nearby facilities, those where relationships have been built through the ongoing Prison Ministry. What a blessing for them to enjoy with their feast meals!
Call for Men to Rise Up!
Pastor Sonia Gotelli, Peru
A men's meeting was scheduled with all the graduates and students of the AGIMAP school to be ministered by Pastor Cesar Silva – topic is the responsibility of the priesthood of the male in every home and in the Kad-Esh MAP ministries. A call was made to rise up as men into the work of YHVH. It was a great blessing to all attendees, and a monthly meeting will be scheduled.
We continued having meetings with Perú and Mexico as UNIFY Delegates for South America. We agreed to celebrate Shavuot together, as well as praying and asking the Ruach for a strategy to reach other nations in the continent.
On May 2nd five new students started AGIMAP (Spanish GRM class)! Ima Bat Ami continues to meet for worship and prayer, seeing a positive impact on family members.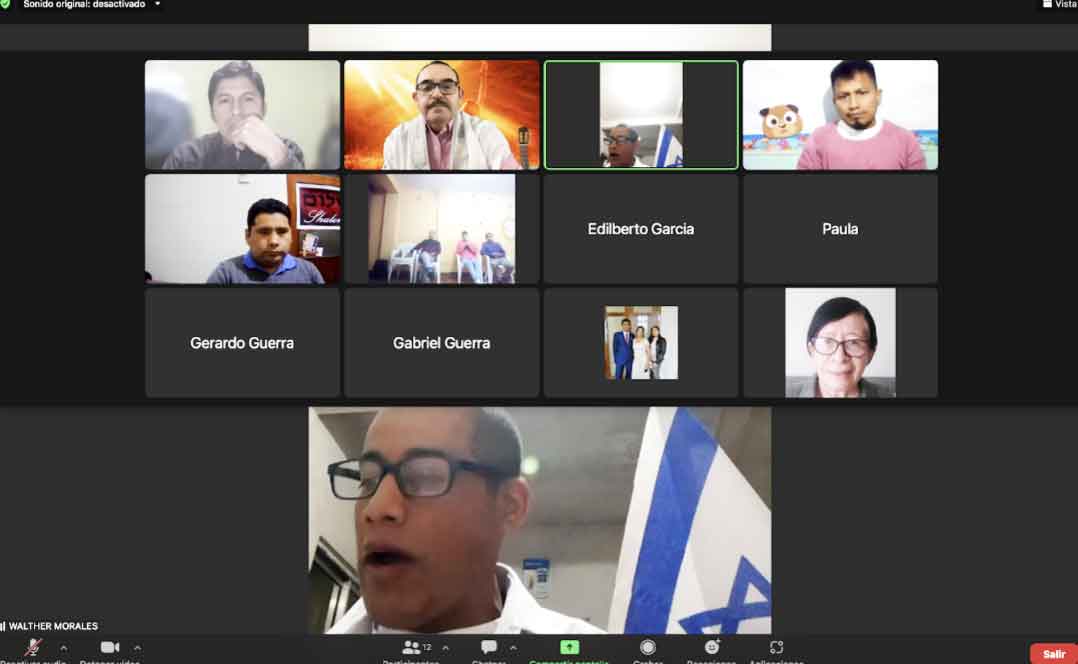 Latin American Coalition Prayerfully Moving Forward
Pastor Cesar Silva, Mexico
This month we have made progress in our Latin American coalition and have already held several meetings, each involving prayer for the different issues that we hope will occur in our unification: To raise the spiritual tent of all of Latin America, hoping that each one of our nations (Peru, Ecuador and Mexico) will be a pole in this kingdom structure. We are believing for a work to begin in each nation of Latin America, opening them up to the MAP Revolution. The prospective countries are Chile, Argentina, Colombia, and Panama, where we currently have some contacts for which we are already praying.
We started a group from the AGIMAP school in the city of Reynosa. In this group we have two people, but, as we move forward in the first classes, we are seeing a hunger and commitment to the truth of the Word of Adonai.
We rejoice with the Geologist who made the prophetic Act of Repentance in Hermosillo Sonora, as he was chosen in a supernatural way to be the leader of all the technological schools that have mining programs. Yahveh is blessing him, as he has received great favor and awards. During our return from the Zahav Tov mine, he came as if he were a prayer warrior trained by the Apostle, as he was decreeing that Adonai would open spiritual and fiscal doors for the entire mining project team.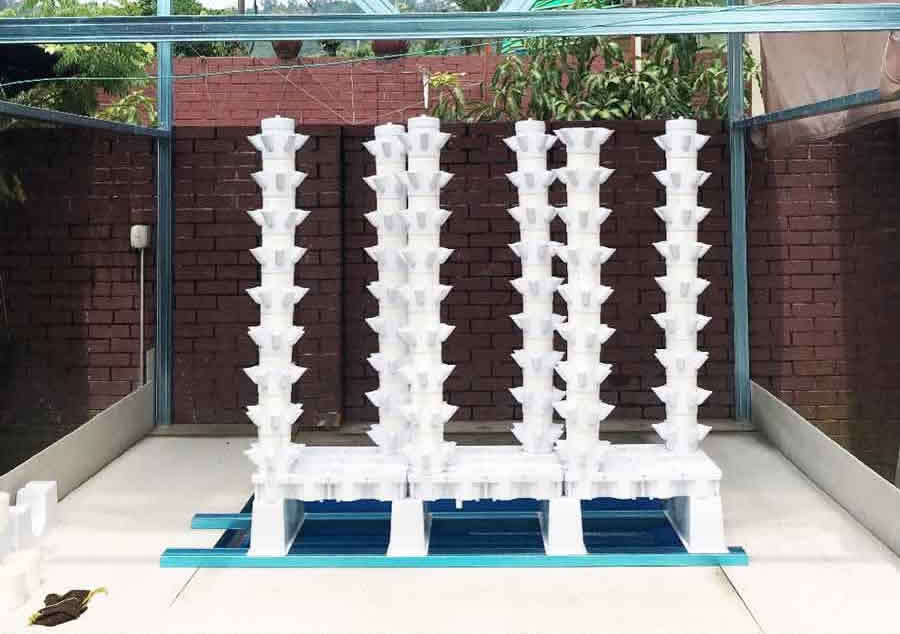 Preparing for Aquaponic Vertical Farming
Pastor Dawid Yosef Lee, Malaysia
UNIFY Malaysia Special Project – Preparation for Aquaponic Vertical farming (80 SQFT)
Before we move in the land we have purchased MAP@780, we are preparing the members for Vertical vegetable farming with Tilapia (Kefa's fish).
Aquaponics is a food production system that couples aquaculture with the hydroponics whereby the nutrient-rich aquaculture water is fed to hydroponically-grown plants, where nitrifying bacteria convert ammonia into nitrates.
We participated in Zoom session with China & Hong Kong – having in-depth discussion on Communism versus YHVH's Kingdom.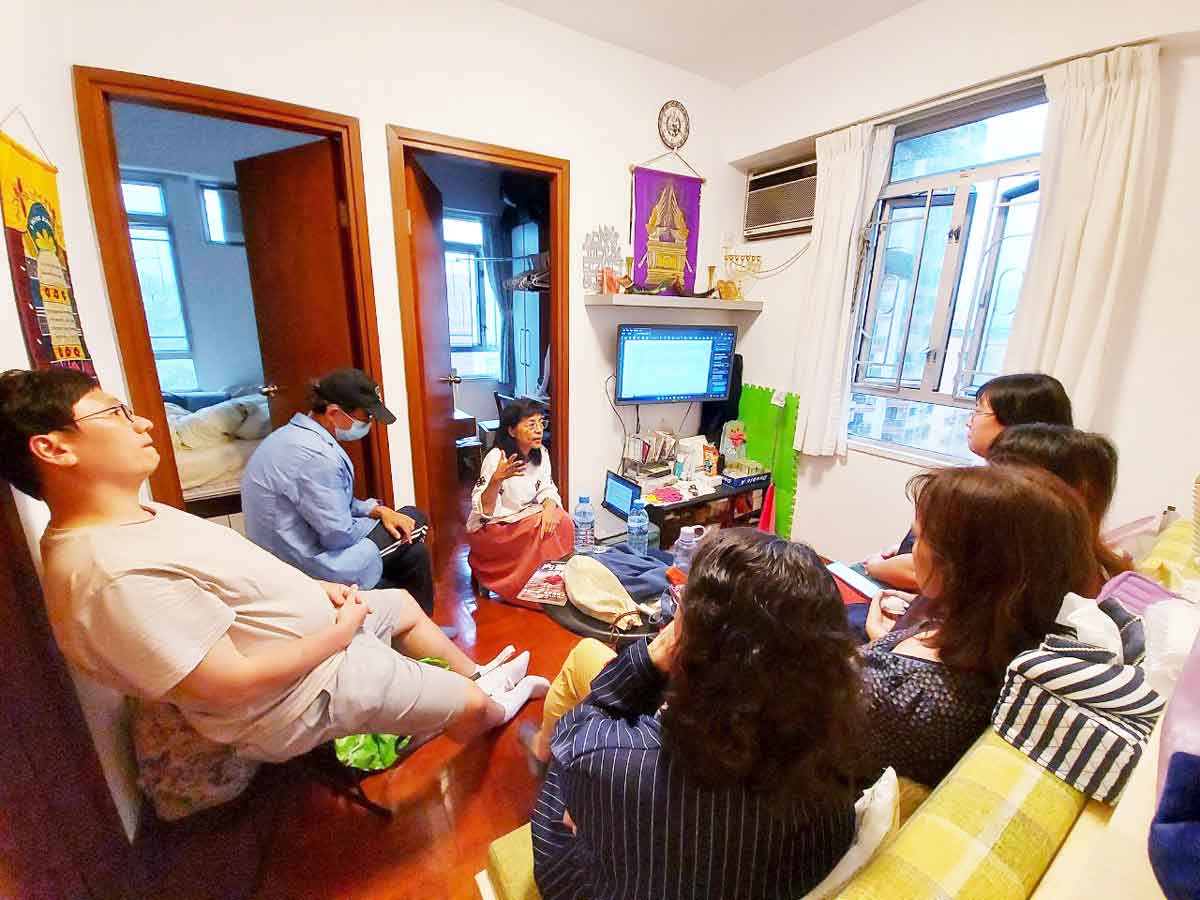 Powerful Testimony of Mikveh Healing
D'vorah Cheung, China/ Hong Kong
Now to him who by his power working in us is able to do far beyond anything we can ask or imagine. Ephesians 3:20
Sarah, a disciple of D'vorah, gives her testimony: On July 14, 2018, I was baptized in the name of Jesus Christ – sadly only my dad came. Then I slowly recovered my identity, and it will no longer be stolen (Identity Theft). The miraculous power of the original name of Yeshua allowed me to experience that what is impossible to change is possible! My entire family came to watch the mikveh together, and YHVH even gave me a family photo as a present. After my baptism I saw that my face in the mirror was so bright. It looked like it was glowing – it was amazing!
Now when I read the Bible, it is easier to absorb, and I am obtaining better understanding than before. Also, my nightmares are reduced, my eyes are full of life, and my mood is more and more stable – no longer dependent on drugs! Thank you, Abba Father for your mercy, for allowing me to know that You are a God without confusion. All praise to Yahveh! I hope everyone will meet Yeshua and learn to know him.
****
D'vorah attended a Shavuot celebration of the Sephardic Jewish community. She has also been able to do her work from her home office, that saves time in traveling, providing her more time to prepare for preaching in her new congregation.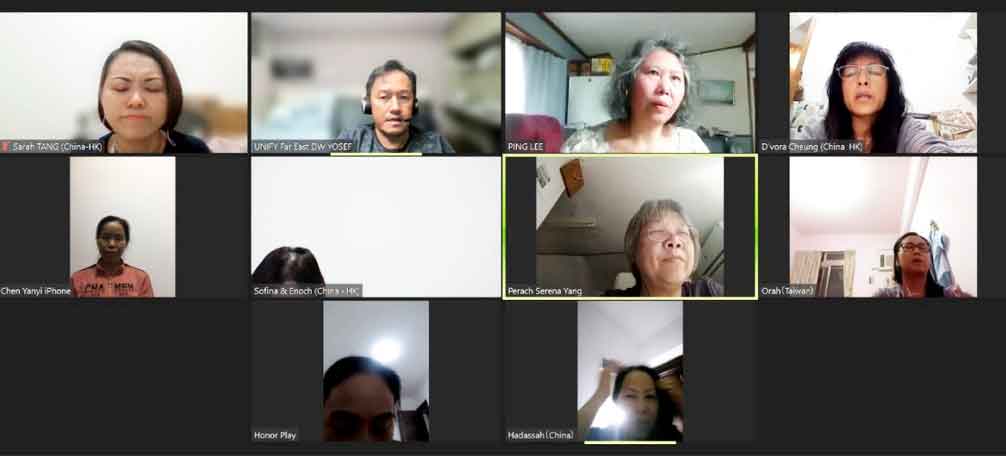 Deliverance Sets Captives Free
Pastor Perach Serena Yang, Taiwan
Pastor Dawid, Pastor Perach and D'vorah hosted a powerful deliverance session online with three participants from Hong Kong, China. The impact of one-child policy in the 80's and the pride of Hong Kong people against mainland Chinese deeply hurt the sister that was from China. She was humiliated throughout her childhood in school. The three participants were greatly released and healed by forgiving each other and repenting for their sins of dishonor against their parents. Giving thanks for the work of the Holy Spirit!
Each team from the nations coming to the Shavuot Tour were asked to prepare a dance according to Archbishop's songs on the Tribute to the Jew in You album – our Taiwan Team prepared a dance based on "Flying Higher". Even though Malaysia could not attend the Tour, we also
prepared one for "Mantle of Mercy" and took flags designed by Pastor David's daughter Amelia to the Holy Land to use for dance & worship there. May Yah bless Malaysia.
Five of our sisters will graduate from GRM in Jerusalem – Praise Yah for opening the door for us to go back to Israel!
Due to current situations in our nations, we gathered brothers and sisters from China, Hong
Kong and Taiwan, teaching and discussing communism in China and democracy in Taiwan, also discussing the problems in Hong Kong. Ultimately God's Torah is the standard, and we know that the governments of all nations must restore biblical politics and return to God's kingdom ways in order to have true unity. This also makes us realize how important it is to continue the GRM Bible School among the Chinese, to see the forming of sheep nations, one person at a time.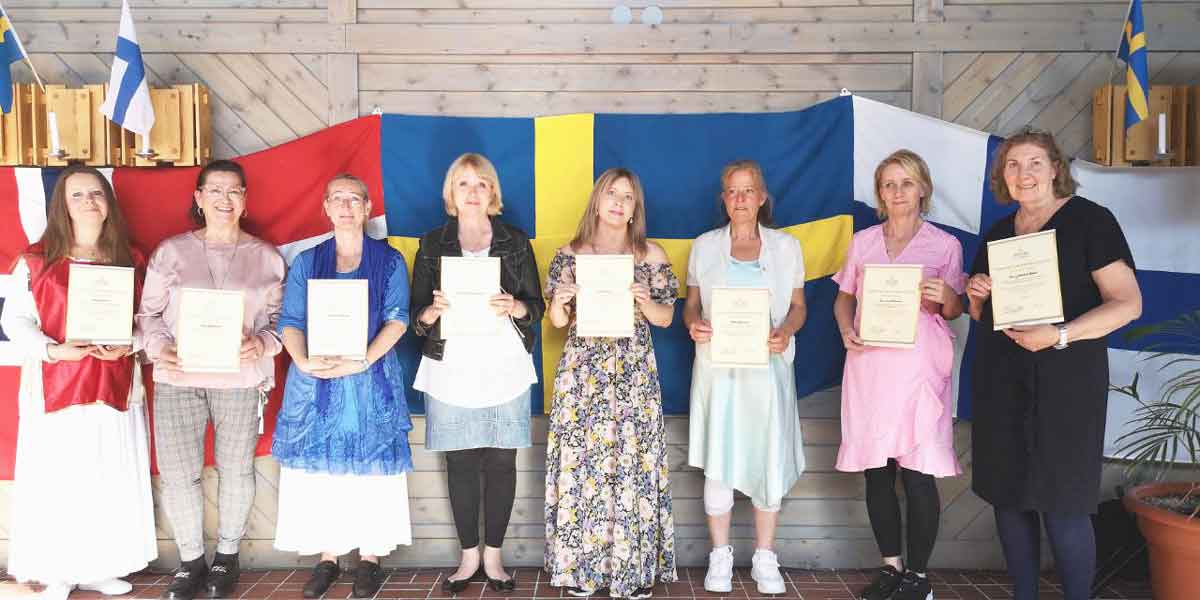 Kingdom Gathering & GRM Graduation Celebration
Apostle Sana Enroos, Sweden
We had the first Northern Kingdom Gathering in Sweden together with Norway and Finland. Many had traveled long distances to participate, some even for 12 hours. Approximately 30 disciples, Northern UNIFY delegates, members and others were gathered to learn the ancient paths and the Gospel made in Zion. Testimonials, preaching, teaching, intercession, dances, full immersions, mikveh and prophetic acts were part of these days. We celebrated Shabbat with Kiddush led by Pastor Hanne, followed by a delicious Shabbat Dinner.
There was such joy, unity, and the mighty presence of Yah over this gathering. I held teachings about Jeremiah 1:10 explaining why and in what way there needs to be a rooting out, pulling down, destroying, and overthrowing before there can be planting and building. That was a great revelation for many, to understand what the Kingdom Gospel does in our lives. A Restitution Offering of $500 was sent to the United Nations for Israel.
The highlight of the Kingdom Gathering was the GRM Graduation by eight of my disciples, seven from Sweden and one from Norway. Archbishop Dominiquae Bierman held the Graduation ceremony speech with great spiritual sharpness and authority – what an unforgettable moment for everyone. Afterwards we continued the ceremony with blessings, prayers and distributing the diplomas. This was also a fulfillment for me personally, as I set a goal in 2019 to get 10 disciples graduated from GRM. Today that goal was reached – Praise Yah!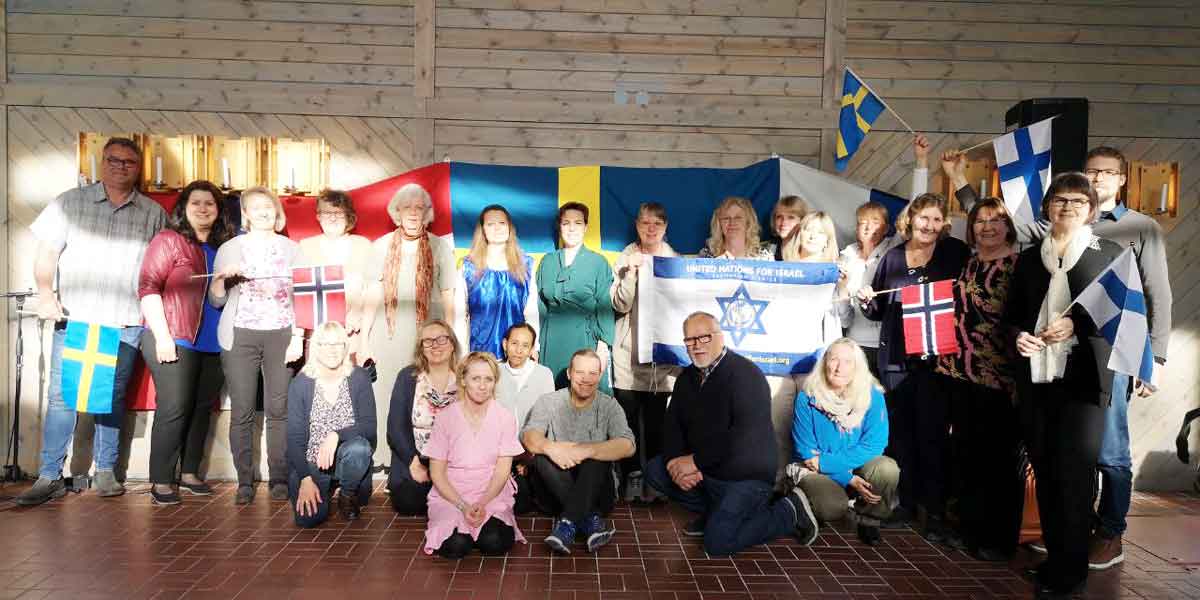 The Voice of YHVH: Now is the Time!
Pastor Terhi Laine, Finland
On May 7 we traveled to Sweden for a joint meeting between Sweden, Norway and Finland, opening up co-operation between the three Nordic countries. Apostle Sana's and Pastor Hanne's teams were receiving us. We were surrounded by a great love and received a lot of teachings and prophecies to be taken to Finland to all of the Vessels of Fire. Such love and teaching arises only in a close Yadah-relationship with Yeshua. We are so grateful for the fire that was kindled in our hearts on that visit. Sinikka felt how the indifference and wall against Sweden and the Swedes in her was broken and a new love for this nation was born in her. She also experienced the great love which the Swedish and Norwegian teams have towards Finland and Finns.
Marie-Louise Anderssons dream concerning Aliyah through Finland: She had a dream with a long room and a large table. Hands were putting plates on the table in a great hurry. They need to be fed urgently because the time is short.
Representatives from Ebenezer OE Finland association were invited to visit us and share about their work for making Aliyah – about 30 people in Finland are members in this association. There was a beautiful presence of the Holy Spirit while we were praising and breaking bread together. We shared our concern for the importance of Israel and the meaning of Aliyah: how insignificant it is in many congregations or not addressed at all. They will have prayer assignments/trips this summer and will visit and pray for the coming Aliyah. I gave them Archbishop`s new CD Tribute to the Jew in you, which pleased them much.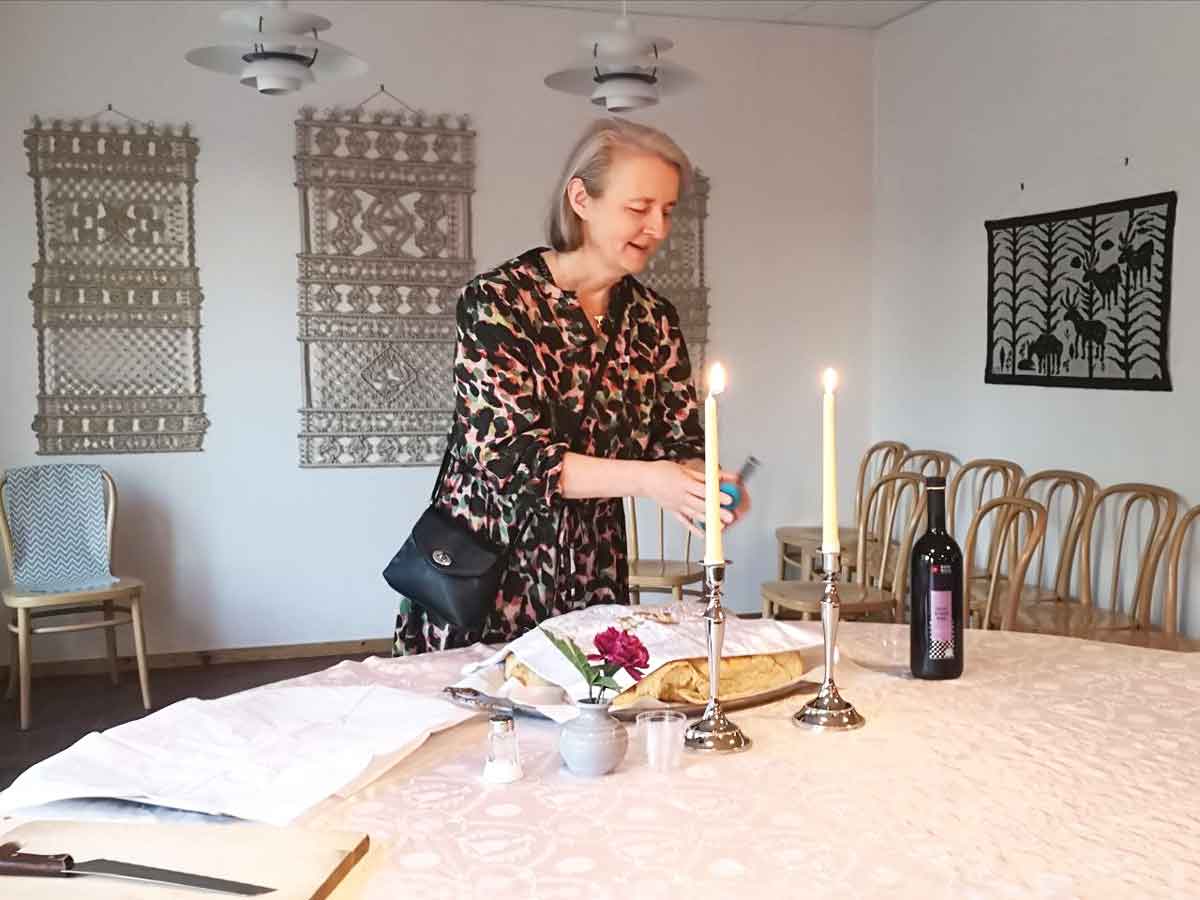 Scandinavian Coalition Strengthening
Pastor Hanne Hansen, Norway
Norwegian, Finnish, and Swedish people/disciples connected to Kad-Esh MAP Ministries met for a weekend including deep, cleansing teachings by Apostle Sana Enroos. We had a baptism in the name of Yeshua and had GRM Graduations where Archbishop Dominiquae gave a powerful greeting through Zoom. It was so wonderful to also have the Finnish group present; a powerful anointing and unity were among us!
Ima Bat Ami meetings continue with the Norwegians and Zoom meetings with Apostle Sana where both the Swedish and Norwegian people attend. Yah is faithful to teach and strengthen us in the faith and establish us in the Gospel from Zion. New GRM students and UNIFY members from the Scandinavian regional coalition were added this month.
We also enjoy having local shabbat dinners in homes at different places in Norway. New people are invited, which is a wonderful way of bringing new people to the Gospel from Zion.
---
These monthly reports submitted continue to encourage the leadership of UNIFY, as we share the forward progress being made toward seeing Sheep Nations arise. All that is being done cannot possibly be listed here, but know that your efforts are surely being recorded by Him.
Thank you all for being faithful to the mission – and we hope you have all had a blessed Shavuot!
For Archbishop Dr. Dominiquae & Rabbi Baruch Bierman,
Reverend Debra Barnes and the UNIFY Team
Become a member of the United Nations for Israel & join our monthly member's online conference.
You will receive fresh updates, instructions, and prophetic teaching live monthly, and be part of the Esther Church standing for Israel!
United Nations for Israel Online Conference – July
Tuesday July 5th, 2022 @ 12:00 PM – 2:00 PM (EDT)
As a member, you will receive a personal invitation with a link to the conference by email.
Support the Mission:
Donate online: https://unitednationsforisrael.org/unify-donations/
Please email us at info@unitednationsforsrael.org for bank details
Call us in the USA at 1-972-301-7087
Checks in USD, Canadian Dollars or British Pounds to be sent to Kad-Esh MAP Ministries, 52 Tuscan Way Ste 202-412, St Augustine, Florida 32092, USA
Western Unions & Money Grams addressed to Paulette Cowan, 52 Tuscan Way Ste. 202-412, St. Augustine, FL 32092, USA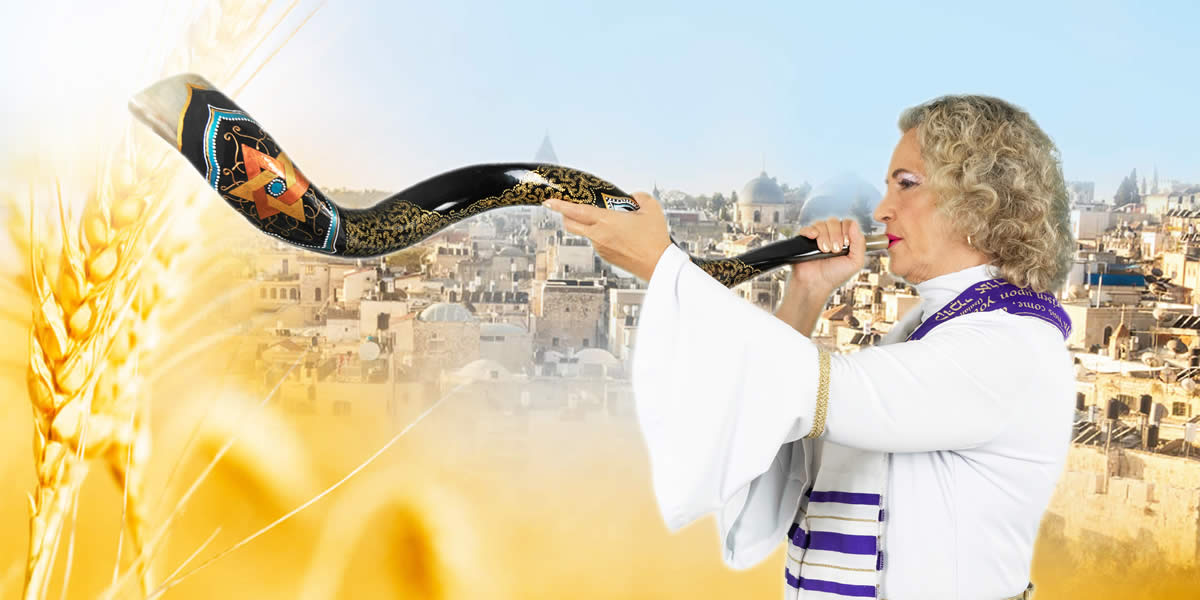 End of Shmita Israel Tour
Dedicating the next 7 years to the King of Israel
Prepare the Way!
October 7 – 18, 2022
With Archbishop Dominiquae and Rabbi Baruch Bierman
"Then it will be said: 'Build up, build up, prepare the way, remove every stumbling block out of the way of My people.'" Isaiah 57:14 TLV
Join us as we end the Shemitah Year and dedicate the new seven year cycle. This is the most pivotal time in history for Israel and the nations, as we usher the return of the Messiah to Jerusalem.
Grab your shofars and be one of the 120 shofars blowing all over the Land!
***No green passes needed
Don't miss this life-changing experience in the Land!
Lehitraot, See you in Israel!
More information:
tours@dominiquaebierman.com | 1 (972) 301-7087 ext. 2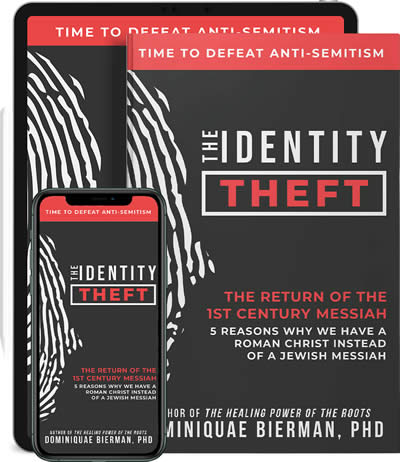 Overcome Anti-Semitism – Discover the Jewish Messiah
Discover your identity in Messiah by restoring His identity as a Jew, not a Roman. Archbishop Dominiquae Bierman's latest book The Identity Theft & the GRI online course defeats anti-Semitism by showing you the Jewish identity of Messiah. You will learn to walk in first century power and anointing!
*Course access comes with the book only when the book is ordered through the website www.against-antisemitism.com
Join The 70 Righteous of The Nations!
Become a special partner of the United Nations for Israel by committing to a monthly love gift of $100 or more. Press the button below or email us for more donation options: info@unitednationsforisrael.org
Join our Telegram Channel for the latest updates from Archbishop Dominiquae Bierman:
https://t.me/dominiquaebierman
Subscribe to our YouTube Channel!
Watch the latest broadcasts from Archbishop Dominiquae Bierman and subscribe to United Nations for Israel YouTube Channel!
https://www.youtube.com/channel/UCpYddpF0nftGv6uLwEu5ARg