Watch: Prophetic Word for the Biblical New Year:
UNIFY UPDATES – April 2022 / Chodesh Aviv, 5782
Adonai answered David, "Go up, for I will certainly give the Philistines over into your hand." So David came to Baal-perazim and David struck them down there. So he said, "Adonai has broken through my enemies before me like the breakthrough of waters!" That is why he named that place Baal-perazim. 2 Samuel 5:19b–20
Prophetic Word given to Archbishop Dominiquae Bierman for the Biblical New Year 2022 / 5782 was shared by video:
We are starting His true new year today (first of Aviv, "head of the months" as in Exodus 12): "This is the year that YHVH Perazim (Lord of the Breakthrough) will be on the move". Despite difficulties (shakings, wars), those who fear His name will arise with healing in His wings (tzitzit, hem of the garment). Holding tightly to the commandments and His divine instructions are implied here in order to achieve a breakthrough. Listen closely to His strategies and obey without assumptions or presumptions.
We read from 2 Sam. 5:20-25 that when David came into power as King, YHVH determined that it was time to defeat His enemies the Philistines. It was at Baal Perazim, the place named because it was once a stronghold, but it was also to become the place where their idols were abandoned, and Baal (highest god of sun worship) was defeated. David prevailed through supernatural strategy given by Yah – through obedience of the leadership and the children of Israel a complete victory was achieved!
For us today we are being asked to strip ourselves of idols, leaving behind those things that will hinder us from our breakthrough in this prophetic season, one where He wants us to achieve great victories for His return and His Kingdom to come.
The Word of YHVH given to Archbishop includes these points:
What worked in the past will not work in the future. In this year we must put our emphasis on a fresh relationship with the Holy Spirit to receive fresh strategies for victories.
Escape unfruitful controversies by keeping our heart right with Him during this time when great revelation is occurring. We must remain humble and realize we do not know it all, even now as restoration of truth is unfolding in this present season.
Honor and respect all those (Jewish and Gentiles) who went before us and paid the price. Even as those listed in Hebrews 11 sacrificed, so did our ancestors who walked faithfully in all the light they knew.
"Things that look impossible will be possible in this new year", says YHVH.
Yeshua is preparing to set up his throne in Jerusalem, but satan also has his sights on the Holy City to establish the anti-Messiah. We need to focus on what YHVH is doing and not get distracted by the wiles of the enemy. We know who will prevail, though the struggle continues. We must stay focused and committed in these times of great shaking, which include plagues, wars and rumors of wars.
Be encouraged to "Fly Higher, See Higher and Aim Higher" in this new year!
This Prophetic Word was released in the triangle area between Jerusalem, Hebron and Bethlehem: Hebron, the area of the first title deed of our inheritance – Jerusalem, where Yeshua will return to rule and reign over the nations – and Bethlehem, where Yeshua was born. A holy triangle, a holy year, set apart and separated unto YHVH. In the midst of judgment and shakings, YHVH Perazim is on the move defeating Baal!
This is the season to defeat Baal in the church, in believers, in Israel – everywhere! UNIFY is uniquely positioned for this purpose. Remember that Kingdom advances are made during adverse winds: eagles always remount and go higher. So, we are also aiming higher as we move together with YHVH Perazim. UNIFY / Kad-Esh MAP is an anointed ministry which is an "apostolic spearhead", opening up territory for sheep nations as they connect to the gospel made in Zion.
We have come to the time prophetically described in Isaiah 49:13-23 in regard to the current wave of aliyah "from the north" (Russia and Ukraine specifically). But we believe it will also provoke more to move to Israel from other countries as well. Israel is prepping for 1 million more at this time. Archbishop believes it is part of "the last final phase before His return".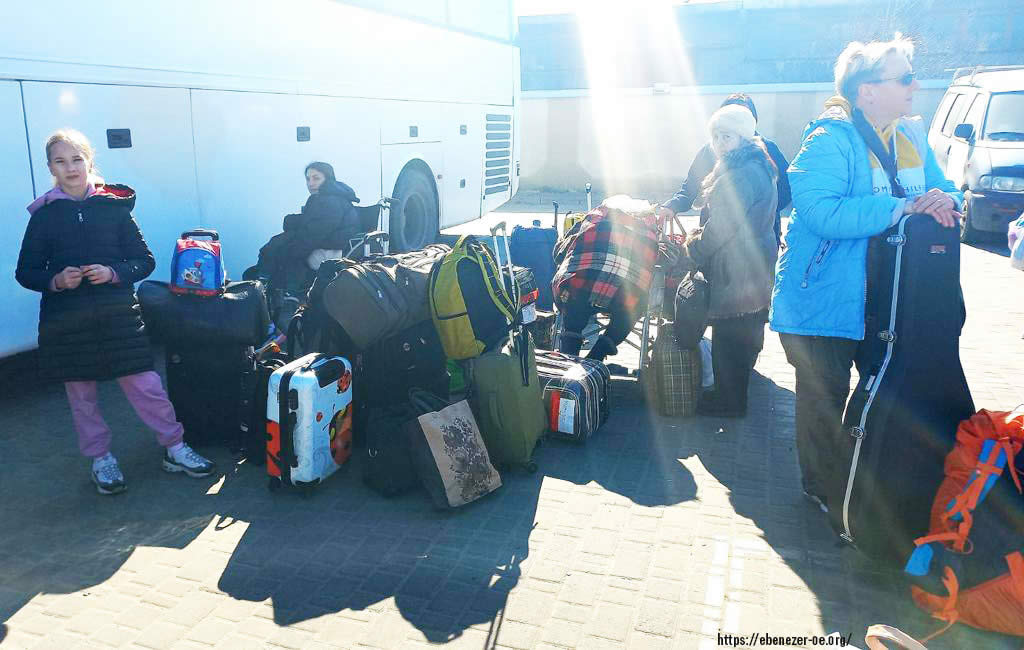 Lift up your eyes around and see: all of them will gather and come to you." "As I live" —it is Adonai's declaration— "you will wear them all as jewelry and bind them on like a bride." Isaiah 49:18
It is the most sensitive Aliyah that there has ever been: the men stayed behind to fight, so many women and children are coming, plus the elderly and handicapped. And they are coming bereaved, broken, and traumatized.
UNIFY aided in rescuing Jews needing to flee the war in Ukraine recently (providing for expenses of 10 buses, costing $30,000). And we are continuing efforts with the volunteers of our partner organization working on the Ukrainian border with Poland who assist with aliyah (donated $5,000). Also, we are now beginning to engage in assisting two Messianic congregations located in Israel which are opening their hearts to help settle Ukrainians – each was given $1,000. The need is tremendous, and we will continue to give as we are able.
To help us to continue the support, you can send your donations to:
https://unitednationsforisrael.org/ukrainian-jews/
According to Isaiah 49 we read that it is time for us to be prepared to rule and reign with Messiah, bowing down humbly as servants in this hour of Israel's great need. Many have been making restitution for the sins of their nations, as you will read in the Delegates' reports that follow.
Kings will be your guardians, their princesses your nurses. They will bow down to you with their face to the ground, and lick the dust of your feet. Then you will know that I am Adonai—
those hoping in Me will not be ashamed." Isaiah 49:23
Watch: Standing with Ukrainian Aliyah
Reports from the Nations
Prison Ministry, GRM Enrollment Increases
Archbishop Dominiquae Bierman, USA
We now have 140 inmates that are now enrolled in GRM (English speaking) and 4 Spanish speaking students. Praise Yah, this is 40 more than last month! We want it to spread far and wide, to see more set free with the true gospel made in Zion. Many are also sending their offerings from their very meager income as inmates – that shows where their heart is and how their lives have changed. Rabbi, Archbishop, and the team are preparing to hold Passover Seders for the Messianic group in UCI prison providing both physical and spiritual feast food.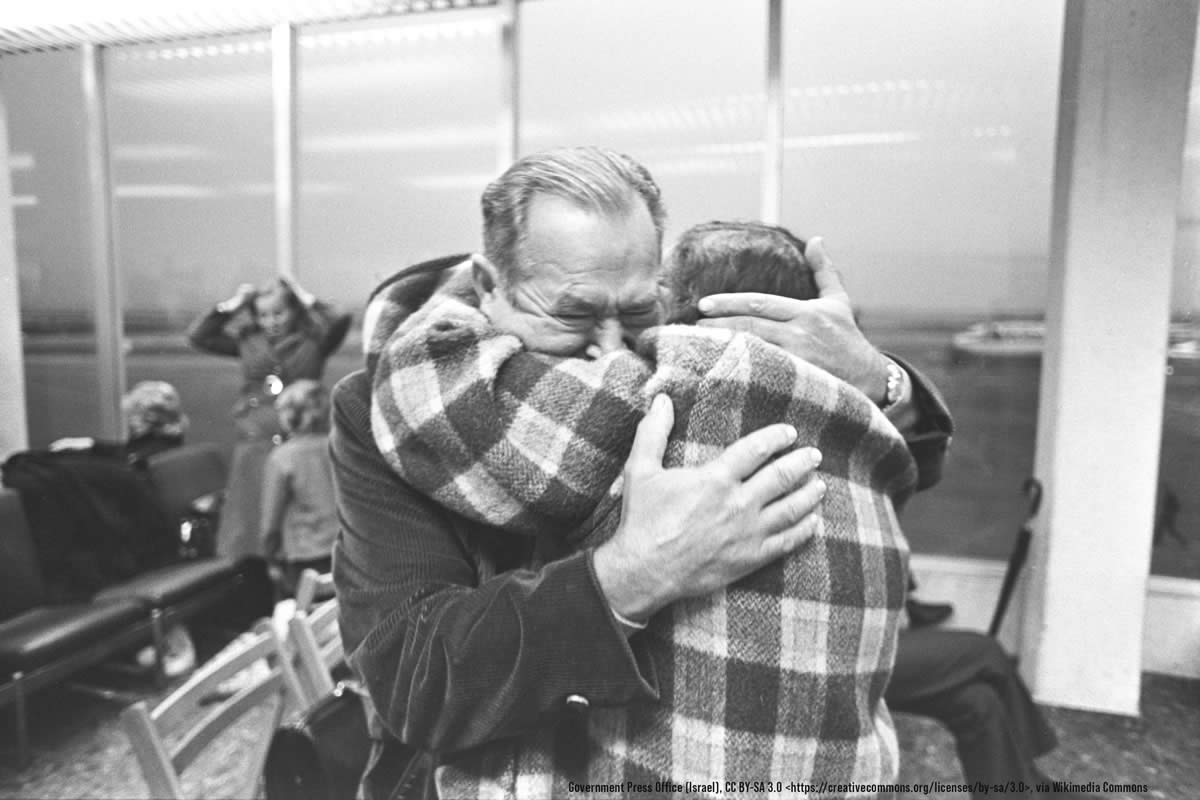 Preparing for Russian Aliyah
Pastor Terhi Laine, Finland
Archbishop noted that in the very near future our Finnish Team will be thoroughly involved with an anticipated wave of desperate Russians fleeing their country and seeking to make aliyah. The Team is positioned to work with our partners and know that many in Finland have already been moved to create refuge houses for fleeing Russians.
Many Team members have been recovering from the virus and praise Yah for His faithfulness through this battle, for He has overcome death! They meet weekly for prayer through Skype.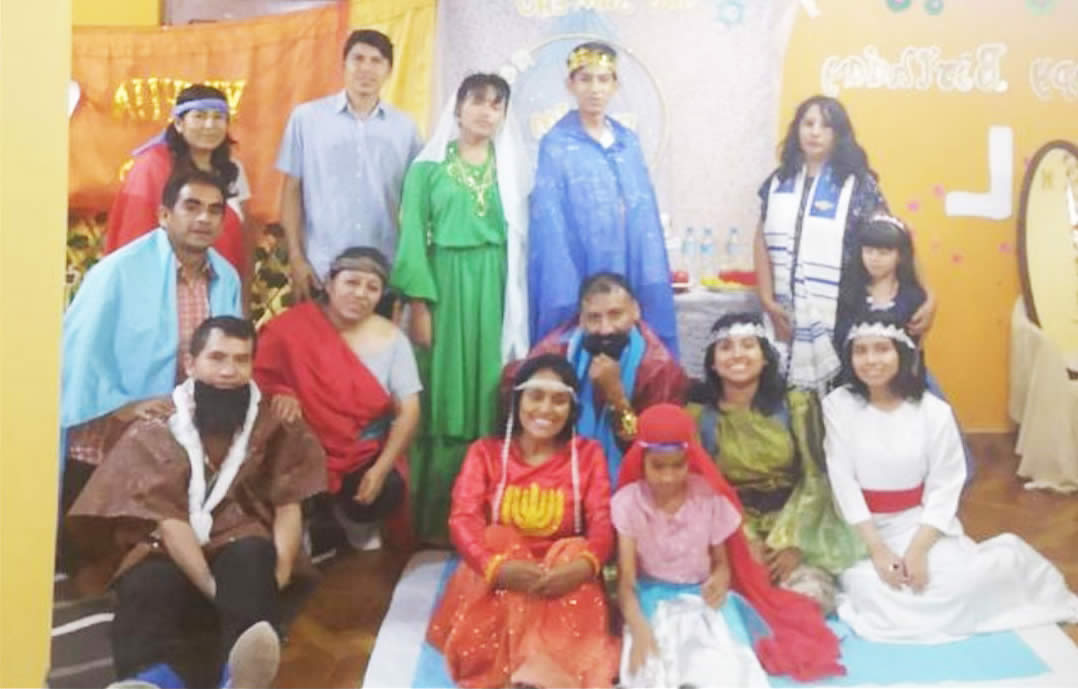 7th Cycle of GRM Students Graduating
Pastor Sonia Gotelli, Peru
We rejoice with all those in Peru as they prepare for the upcoming graduation of students in the 7th cycle of GRM (AGIMAP). Also, two members of the Ima Bat Ami group will be starting AGIMAP the first week of April.
On March 16 we celebrated the Feast of Purim with a theatrical representation of the story of Esther featuring all the young people of the ministry and the children of the members of Ima Bat Ami.
All the members of the ministry joined in with financial and spiritual support of the group "Operation Rescue", sending $1,300 dollars to assist with the departure of our Jewish brothers and sisters from Ukraine.
Every week the messages given by Apostle Dominiquae continue to be broadcast through TV La Luz and Radio Pacífico.
Testimonies Confirm the Power of Restitution
Pastor Cesar Silva, Mexico
Making a Restitution Offering to Israel brings very important, necessary, and powerful revelations. We ministered this truth to a lady who was in the midst of a cancer situation – and we told her this act of faith would allow her to take the Key of Abraham to activate Adonai's blessing on her life and bring healing. She agreed. Well, the powerful testimony is that her breast had filled with sores again and current tests said that the cancer had returned. But in just this month of March, the cancer has dried up and the sores and rashes have disappeared! She also received unexpected finances, double the amount needed to cover expenses for surgeries and treatments. That is why the word says that He gives us much more abundantly than what we ask or understand.
Much awakening, revelation and dreams are occurring as we continue seeing many new people coming into our congregation at our new location. They are being taught to honor Israel.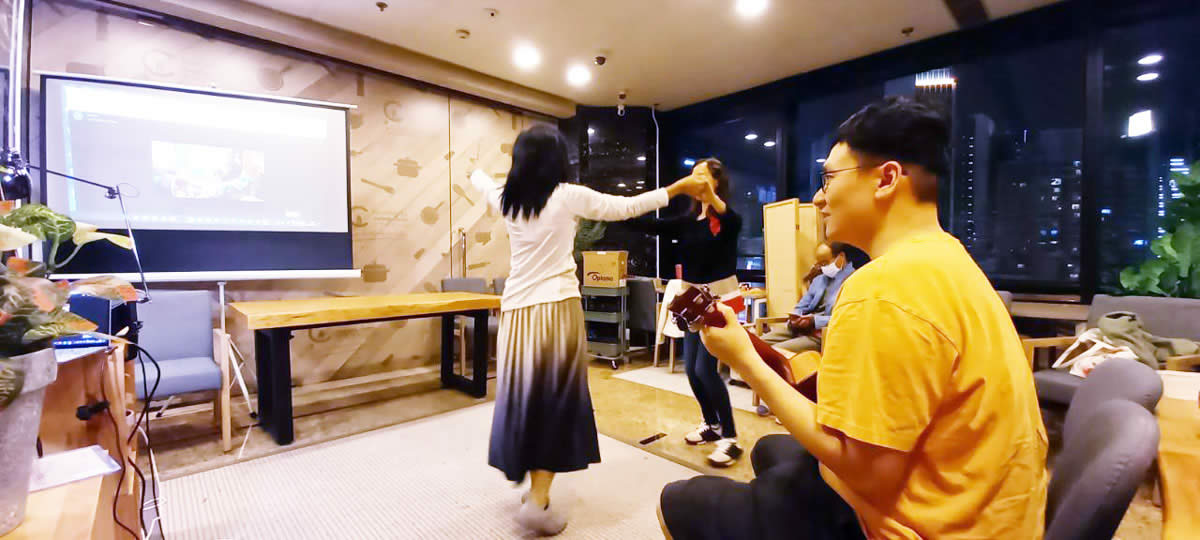 Fasting for Victory over Omicron
D'vorah Cheung, China/ Hong Kong
All praise to YHVH: the number of cases of this deadly virus decreased significantly (from 57,000 to 14,000 cases) within the time period of 3 extended fasts completed, along with Restitution and Acts of Repentance done. He is faithful!
Also reporting how GRI has brought radical deliverance and shalom to a woman. She was subsequently affected by listening to "Christian music" and required more deliverance – the songs from Tribute to the Jew in You brought shalom back once again.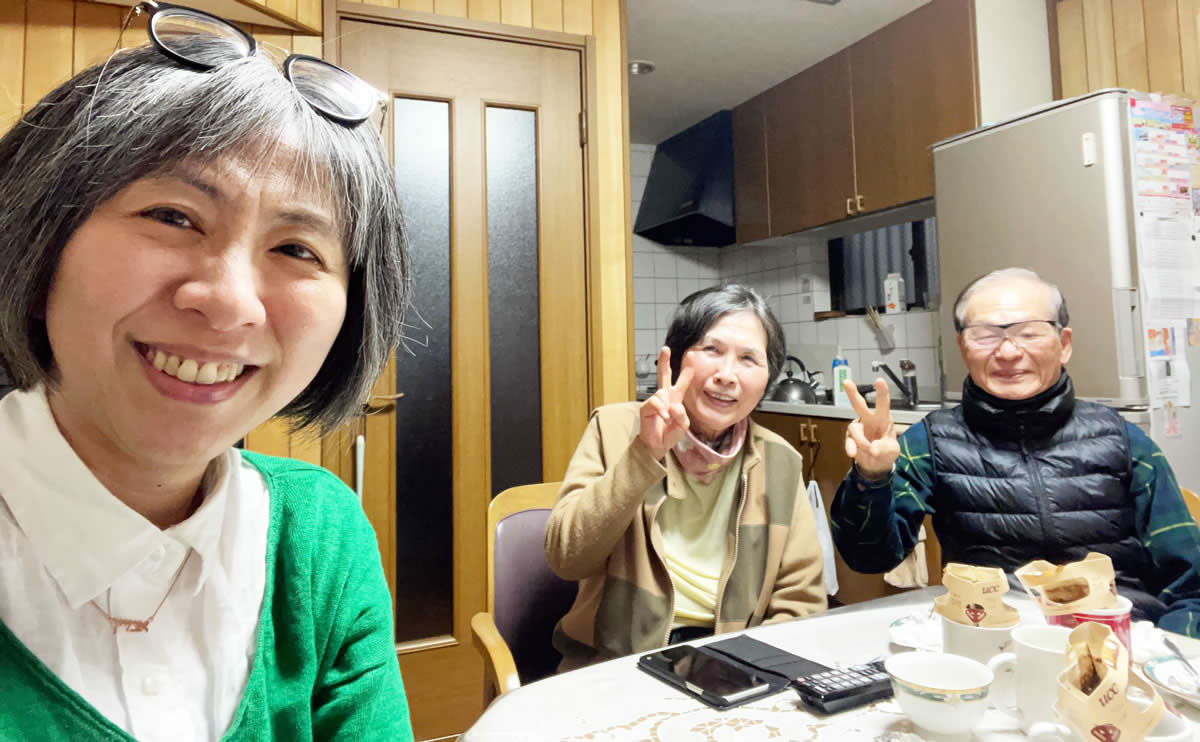 Japanese Book Translation Continues
Yutong Tagawa, Japan
We are in the final stages to translate and proofread the third book Sheep Nations. Work has begun on translating Grafted In into Japanese.
Printed copies of the book Yeshua is the Name (in Japanese) have arrived! The next day after I received them, Yah sent a couple to me from Kobe (the name of this city means "Gate of God") to buy a book. And another Japanese woman asked me about Easter by text message. I told her that we were celebrating Passover – then she bought a book from me! Pray that the Lord would help them return to the biblical Hebrew roots.
As part of the Asian Coalition, Japan joins with Taiwan's prayer group every night, and also joins with the Ima Bat Ami group each Shabbat.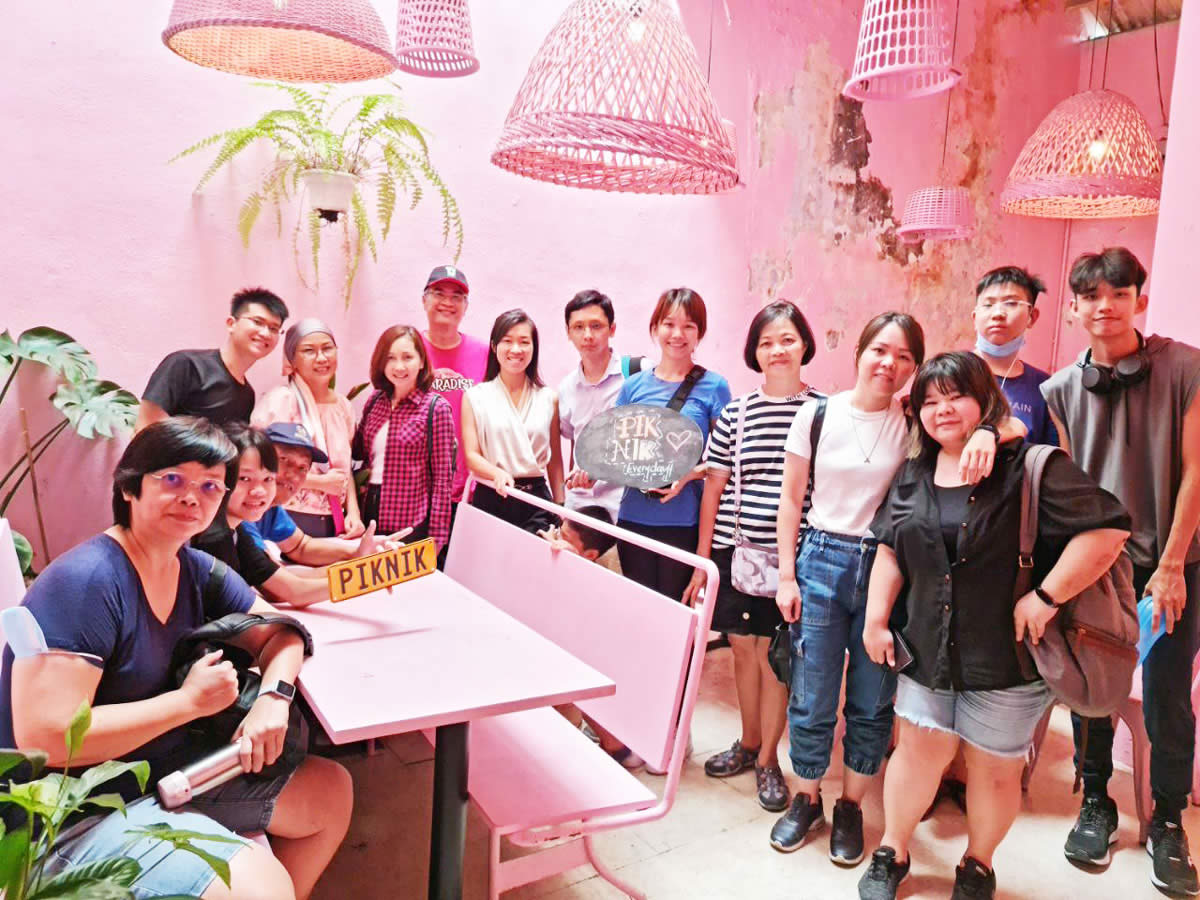 Submitting to Authority is the Key
Pastor Dawid Yosef Lee, Malaysia
Our faithful connections and submission to our spiritual parents, Archbishop and Rabbi, is the key to advancing the Kingdom in our nation. We have seen it in operation in Malaysia and throughout the Asian Coalition (including Taiwan, China/Hong Kong, and Japan) as each area is growing and multiplying. This requires courage, humility, and faith by each person in order to bear fruit.
We also celebrate the recent purchase of land, as led by the Ruach, to be used for a mishkan (tabernacle, place of worship). This will be such a blessing for our Kad-Esh MAP / UNIFY Team in Malaysia.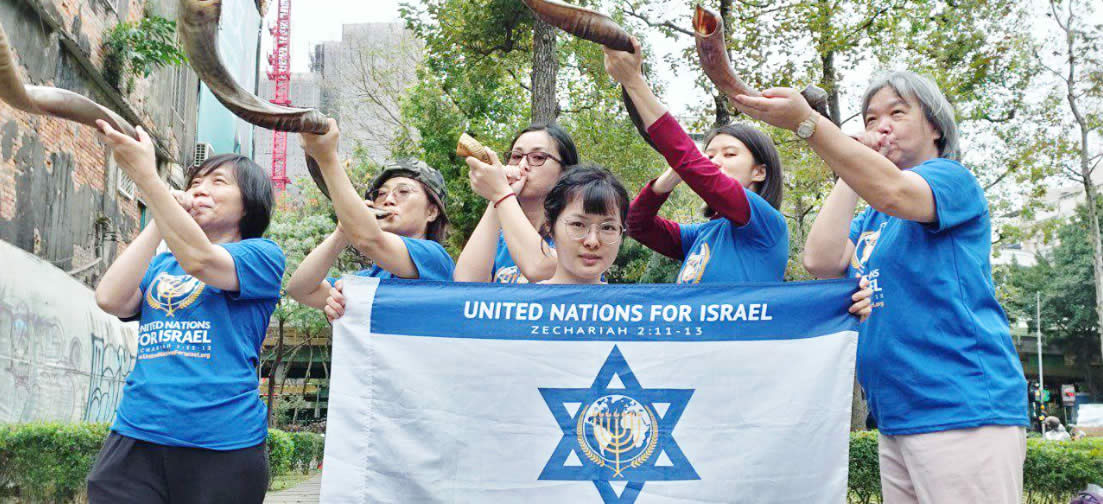 Repentance from Anti-Mesitojuz
Perach Serena Yang, Taiwan
On Purim, March 18, the Far East sounded the Shofar in unity on Zoom, led by Ps Dawid Yosef. We repented for the Anti-Mesitojuz and for any Replacement Theology (opposition against Israel and the Jews) – then prayed for the Aliyah to Israel for Jews in Taiwan (estimated 600 – 800). We want to give thanks to the first Jewish rabbi, Dr. Ephraim Ferdinand Einhorn, who came and lived in Taiwan in 1975. He had been praying for this country and blessing Taiwan for more than 40 years.
Praise Yah for one local GRM student from China who has graduated in March. Also, one new student from China registered this month.
There is a GRM student in Taiwan whose husband is still in the church, but he has been attending our Shabbat services, Ima Bat Ami, and prayer meetings online with his wife each time. One night, her husband had a dream that the pastor of his church stood on the pulpit and said, "The name of the Lord is Yeshua." So, this sister bought two books of Yeshua is the Name. One was given to her husband, and after he read it, he gave the other book to the pastor of his church. When the pastor received the book, he responded by saying, "God's name is YHVH." Now, we are looking forward to this pastor standing on the pulpit and saying, "Yeshua is the name of the Lord", just like in the dream! HalleluYah.
Act of Restitution – Light Mission in Jewish Cemetery in Oslo, Norway
Apostle Sana Enroos, Sweden and Pastor Hanne Hanson, Norway
As we were on the way from Sweden to Norway during Purim, we started to get different revelations concerning what is needed in Norway. We saw that it was like a little Germany spiritually, with a Nazi Swastika in the spirit realm still in operation. Somehow the nation had stayed back 80 years in time. Yah wanted to cleanse the dark history and forgive. He desired to bring the 3rd Day Revival to the nation and gave us a strategy.
Despite the rainy, cold weather, our small but united Team achieved our goal for this Act of Restitution: all the graves and the Star of David structure in the middle of the Jewish Cemetery in Oslo were filled with candles. It became a Memorial for these precious Jewish People. We saw how Magen David burned deep down to the ground and destroyed that Swastika that had been over the land in Norway since WW2. Pastor Hanne blew a shofar mightily and we were filled with great joy. After this Act of Repentance and prayers a beautiful Shalom was released upon the place and the atmosphere in Oslo changed. All of us felt it very clearly. Praise Yah!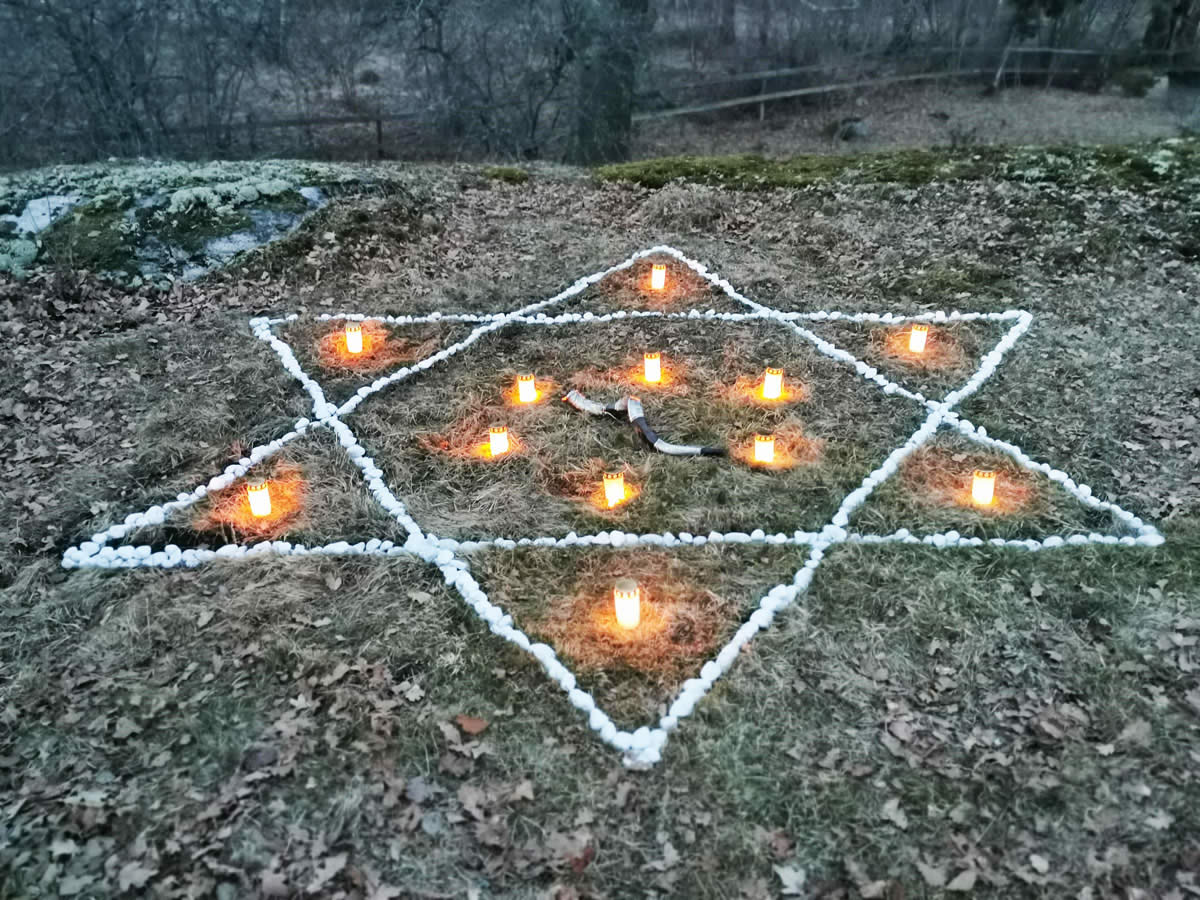 Sweden: Building a Memorial
Background: In 1992 Sweden refused to allow Jews who were on their way to Israel making Aliyah to go through their land – turning back 501 Jews to Russia even though they had been given permission earlier. Sweden became like Edom (Numbers 20:17-21) and the whole thing became a blood guilt on the hands of Sweden, crying for vengeance. Those Jews sent back to Russia faced difficulties, persecution, and some of them perished. I knew that something more must be done, more than an Act of Repentance, only asking forgiveness.
Yah instructed me to build a memorial of stones for those Jews – they were coming to Sweden through Estonia but were sent back. Two years later 28th September 1994 the M/S Estonia was cruising the same route. The ship never came back to Stockholm but sank on that night. In this tragedy 501 Swedes died – the exact same number of Jews that Sweden denied access.
This Stone Memorial became like EBENEZER, the Stone of Help. The finger of Yah was upon this Act of Restitution that should overturn the curse in Sweden. I believe that this Magen David (built with 50 kg of white marble stones) is an Ebenezer for Sweden operating for Rachem!
When I built the Memorial, all creation was on alert. Different birds were crying, screaming loudly and a horse was watching. The anointing was so strong! I was blessed beyond measure while building it, listening to "Tribute to the Jew in You" at the same time. When I finished the Memorial, I did not want to leave, because Heaven was open upon that place. I sang Sh`ma Israel many times and broke the curse of Edom in Sweden. HalleluYah!
There is much fruit coming from this Scandinavian Coalition – "YHVH Perazim is on the move in Norway and Sweden!"
Apostle Sana confirmed that it is by our obedience that we are turning the Key of Abraham, standing under authority, and grasping the tzitzits of our Jewish spiritual parents – this allows the anointing upon this ministry's leadership to operate through us. It is also our willingness to be perfected and have our gifts cleansed by GRM that allows Him to flow mightily through us all.
---
Glory to the God of Israel for all He has done! Our monthly meeting and hearing testimony of all the fruit in the nations is like "food for my soul". I can see the DNA of Yahveh in each of our Team members that have been "sanctified in the Truth." (John 17)
Thank you all for being faithful to the mission – and we will see you all soon in Israel for Shavuot!
Now, have a very Blessed Passover season!
Archbishop Dr. Dominiquae & Rabbi Baruch Bierman and the UNIFY Team
Become a member of the United Nations for Israel & join our monthly member's online conference.
You will receive fresh updates, instructions, and prophetic teaching live monthly, and be part of the Esther Church standing for Israel!
United Nations for Israel Online Conference – May
Tuesday, May 3rd, 2022 @ 12:00 PM – 2:00 PM (EDT)
As a member, you will receive a personal invitation with a link to the conference by email.
Support the Mission:
Donate online: https://unitednationsforisrael.org/unify-donations/
Please email us at info@unitednationsforsrael.org for bank details
Call us in the USA at 1-972-301-7087
Checks in USD, Canadian Dollars or British Pounds to be sent to Kad-Esh MAP Ministries, 52 Tuscan Way Ste 202-412, St Augustine, Florida 32092, USA
Western Unions & Money Grams addressed to Paulette Cowan, 52 Tuscan Way Ste 202-412, St Augustine, FL 32092, USA
The Prophetic Restoration Tour of Israel
Shavuot/Pentecost
June 3–13, 2022 (10 days)
With Archbishop Dominiquae and Rabbi Baruch Bierman
"Righteousness is going before Him and prepares a way for His feet."
Psalms 85:14 TLV
Grab your shofars and HASTEN to enter His Land through the Open Door we have all been praying for!
***No green passes needed, only PCR tests
More information:
tours@dominiquaebierman.com | 1 (972) 301-7087 ext. 2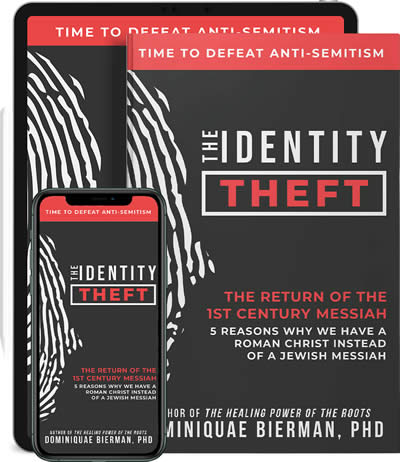 Overcome Anti-Semitism – Discover the Jewish Messiah
Discover your identity in Messiah by restoring His identity as a Jew, not a Roman. Archbishop Dominiquae Bierman's latest book The Identity Theft & the GRI online course defeats anti-Semitism by showing you the Jewish identity of Messiah. You will learn to walk in first century power and anointing!
*Course access comes with the book only when the book is ordered through the website www.against-antisemitism.com
Join The 70 Righteous of The Nations!
Become a special partner of the United Nations for Israel by committing to a monthly love gift of $100 or more. Press the button below or email us for more donation options: info@unitednationsforisrael.org
Join our Telegram Channel for the latest updates from Archbishop Dominiquae Bierman:
https://t.me/dominiquaebierman
Subscribe to our YouTube Channel!
Watch the latest broadcasts from Archbishop Dominiquae Bierman and subscribe to United Nations for Israel YouTube Channel!
https://www.youtube.com/channel/UCpYddpF0nftGv6uLwEu5ARg